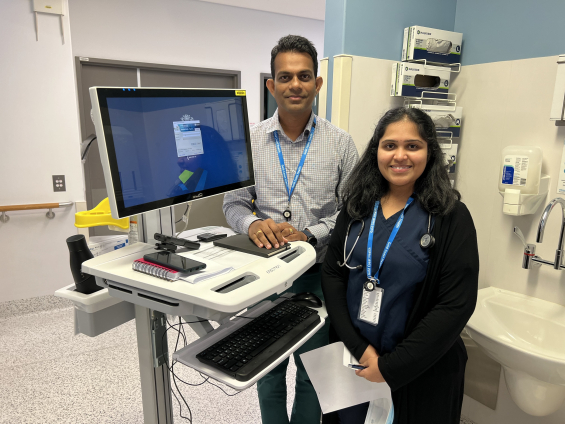 International Medical Graduates Dr Likhitha Ranga and Dr Navaratnam (Mowlee) Mowleeson share the role of Junior Doctor in the new General Medicine Emergency Team (GMET), based in the Emergency Department to improve patient flow.
Both doctors are doing a rotation in the GMET and have found it to quite different to working in their home countries.
"In Batticaloa in Sri Lanka, we didn't have the same equipment as here, but we did have all the sub-specialties at the teaching hospital that I worked at," said Mowlee.
"It was a lot busier than here and always exceeded capacity," he said.
Likhitha, from India, comes from a business family background.
"Access to healthcare is often limited in India due to factors like poverty, inadequate infrastructure, and a shortage of healthcare professionals, particularly in rural areas. Our town doesn't have many doctors, so people must travel far to seek medical treatment," said Likhitha.
"This is one of the reasons I wanted to become a doctor," she said.
Both doctors studied and worked overseas before working in Australia, making them eligible for Gold Coast Health's (GCH) International Medical Graduate program.
"I had heard that working at Gold Coast Health was a great career move, so I explored the opportunity to work here, moving to the Gold Coast with my family in early January, starting work in mid-January," said Mowlee.
Likhitha had already done a rotation in the Short Stay Unit at Gold Coast University Hospital for three months before joining the GMET team.
"My husband has worked here for two years as a consultant, so it's great to be able to work in the same hospital as him," Likhitha said.
"GCH is one of the largest public health services in Queensland and is well known for delivering quality healthcare to the community and providing ongoing education and training for staff, so it's wonderful to be working here."