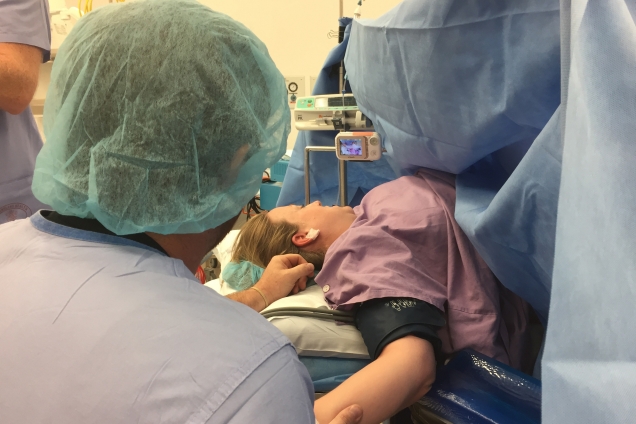 Mothers who have caesarean births can now share the first minutes of their baby's life, thanks to technology being trialled at Gold Coast University Hospital.
Previously, mothers only got a fleeting glimpse of their newborn before waiting up to 20 minutes while medical and nursing staff performed standard health checks on the baby.
The simple technology, a babycam which has been trialled since September 2016, allows the mother to watch from the operating table as her baby is checked by health staff.
Anaesthetist Dr James Drew initiated the idea, saying he felt for mothers who were often left waiting while their partners and staff got to experience the child's first minutes.
"Often the father pops back to show her photos or staff came back with news on the baby, but I felt it was disappointing for the mother because she often missed out on seeing her baby in the early few minutes," he said.
Since the babycam trial began about 50 mothers have had the opportunity to watch their baby during the first few minutes after birth via the device, which does not record footage.
"Often the most satisfying moments are when mothers having their second or third baby are thrilled to see their baby because they know how much they missed out on when they had their first child.
"I've worked in five countries during the past 15 years, and this is the first time I have seen mothers having the opportunity to see their newborns on camera after having a caesarean delivery," Dr Drew said.
Gold Coast University Hospital's Service Director for Women's, Newborn and Children's Services, Hazel Brittain, said staff endeavoured to make every birth special for parents, but monitors enabling mothers to watch their newborn baby really added something to the birthing experience.
About a quarter of births at GCUH in 2016 involved caesareans.