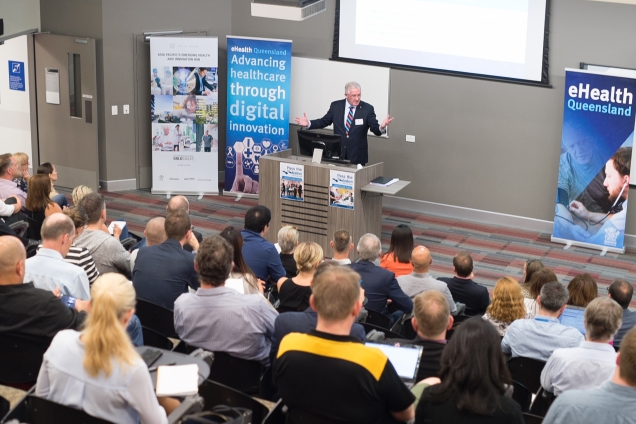 Gold Coast Health will today host local and international leaders in health innovation at a showcase highlighting the ways data and artificial intelligence will disrupt the healthcare industry in the next decade.
More than 200 healthcare professionals, academics, entrepreneurs, investors and business minds will gather at the Gold Coast University Hospital to hear about successful Queensland Health innovations, start up projects with exciting healthcare applications, investment and funding opportunities.
Speakers include Dr Glen Richards, Shark Tank star and the founder and former CEO of Greencross Vets as well as Dr Richard Ashby, the Chief Executive of eHealth Queensland, which is responsible for advancing healthcare through digital innovation.
Gold Coast Health's Medical Director of Innovation, Dr Brent Richards said the current and growing capability for artificial intelligence and big data in the healthcare industry is mostly untapped.
"New technology and the ability to harness big data will fundamentally change the way we deliver healthcare to the community in the future," Dr Richards said.
"Gold Coast Health is actively working through IntelliHQ and academic and industry partners to solve major healthcare challenges with the support of commercially viable AI projects.
"We hope this showcase will be a bridge between ideas and investment, while raising awareness of the increasingly positive benefits that AI is bringing to healthcare," Dr Richards said.
Gold Coast Health and Knowledge Precinct Project Director Di Dixon said the healthcare innovations on show are exactly the sort of exciting high tech developments the Precinct is looking to attract.
"The expertise within the Precinct in the field of big data analytics and AI, both within Gold Coast Health and also at Griffith University, is really attracting the attention of global companies.
"There is real opportunity for companies to locate in the Precinct and leverage that expertise and the clinical environment for many different potential applications of big data/AI in healthcare, with healthcare providers only just starting to open up this new digital health frontier.
"The Precinct could become globally recognised in this niche, but large field."
The event will showcase Queensland Health innovations already making a difference to patient care including Deadly Ears, Choosing Wisely, Swift Project, Clinician Connect and Robotic Rehabilitation.
Startup projects to be showcased include:
The Intelligent Health Innovation Showcase builds on the AI in ICU workshop held at the Gold Coast University Hospital in July 2017.