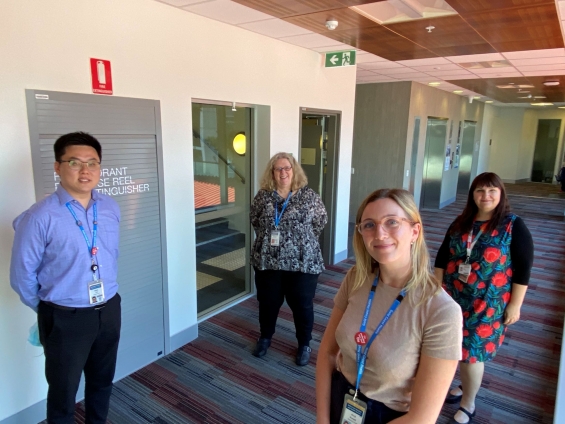 A new traineeship is giving Gold Coast Health nurses the opportunity to learn more about infection control and become a valuable resource and role model for their peers.
The first cohort of two nurses recently finished the six-month traineeship with Gold Coast Health's Infection Control Department.
Robina Specialist Medical Unit registered nurse Elle Russell said she decided to apply for the traineeship after her interest in infection control was sparked by the COVID-19 pandemic.
For the course of the six-month program, Elle and fellow nurse David Ahn worked half of their time in their substantive roles and the rest of their time studying and working in the infection control team, putting their studies into practice.
They were required to complete an infection control course, Foundations of Infection Prevention and Control run by the Australasian College of Infection Prevention and Control, and additional course work from the Australian Commission on Safety and Quality in Health Care.
David had an interest in infection control prior to the COVID-19 pandemic said he was motivated to make sure he had the right knowledge.
"When COVID hit, I saw infection control really rising in attention and I thought I really want to learn the right stuff so I have the right foundations," David said.
Elle said the traineeship had changed her perspective.
"I have been going back to the ward and seeing everything from an infection control perspective and being role model and a resource to people I work with," she said.
"We've built relationships so we can approach the infection control team at any time and that's something I would not have without doing this course."
The traineeship modules are taught at a post-graduate level and paid for the by the health service.