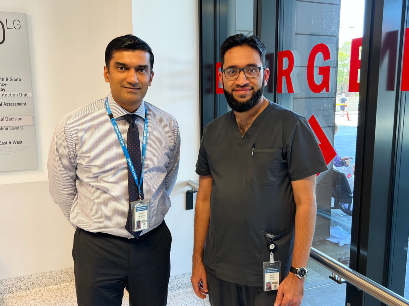 A new Gold Coast Health initiative is improving the flow of patients in the Emergency Department and General Medicine wards, enabling patients to be assessed sooner, and reducing their time spent in hospital.
The 'Patient flow – General Medicine' project, partially funded by Clinical Excellence Queensland's Patient Flow Intensive Program, includes a new General Medicine Emergency Team (GMET) at Gold Coast University Hospital.
The GMET identifies ED patients who are well enough to be discharged into their General Practitioner's care or who may be able to come back to an early discharge clinic for test results, instead of remaining in hospital or being admitted to the MDU, according to Clinical Director of General Medicine, Aged Care and Endocrine Dr Salim Memon (pictured on right, with joint project lead Medical Director General Medicine Dr Harish Venugopal).
"We are also trialling some innovative changes in our General Medicine wards and other wards to help with patient flow and discharge at our hospitals," Dr Memon said.
"They include dedicated clinical teams in the General Medicine wards, staff rostering changes to help manage discharges later into the day, and the introduction of a Clinical Care Coordinator and Senior Social Worker to manage social barriers to patient flow.
"While the initiative is still in its infancy, having commenced on 6 February 2023, the initial data shows the changes are having a positive impact on patient flow in our hospitals," he said.