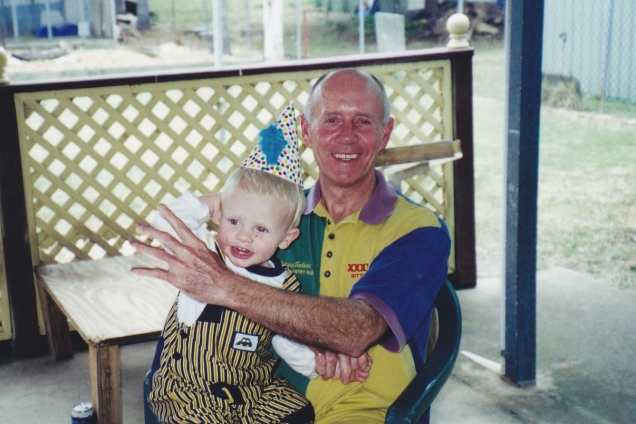 Kate Dale, Gold Coast Health Trauma Nurse Practitioner, shares her personal story of organ donation:
One August morning my Mum Jeanette and Dad Peter woke together and laid in bed for a while listening to the news on the radio. Unchained Melody played on the radio that morning, this was one of their favourite songs. Dad was a great singer and was in the local choir. They laid there together and listened. I can just imagine him singing along.
After 45 years of marriage, 3 kids and 5 grandkids this was the final time they would spend a morning like that together as 15 minutes later my dad had a massive bleed on his brain, collapsed and was admitted to the ICU. He was 68.
In the ICU we were told that he would not survive as he was progressing to brain death. At one of the many family meetings we had, the ICU doctors discussed the potential for organ donation.
This was a time of devastation and a feeling complete loss for all of us especially Mum. The saving grace for our family though is that Mum and Dad had only recently discussed organ donation and she knew 100% that Dad supported the idea.
My Dad had always looked after himself, ate well, hated smoking, had always played sport and was still very fit continuing to play touch football up until that time.
He had never really been sick. I raced him up the hill near the family home one day and he flogged me. If I could choose any bodies organs I would choose his.
The decision for us was made easy by that discussion between Mum and Dad and when we thought Dad had gone and could no longer offer this world anything, he could actually offer the most valuable gift of all.
Late the next night he was taken to theatre and his organs and tissue were retrieved and he died. The next day we were told that his lungs, both kidneys and liver had been successfully transplanted into 4 very lucky people saving their lives. He also provided the gift of tissue. We were told how sick the recipients were and how they were in desperate need of the organs. We waited for this news and when we got it we knew we had made the right decision and any feeling of doubt or guilt was lifted.
At that time and even now 3 years later it gives me great peace knowing that Dad was able to do that for those people. His life may have been lost but he was able to save those lives so they could really LIVE and so that their families could enjoy them for hopefully a very long time. Even though his body had failed him that week, all I could think of was that at least someone would benefit from all of those years of him looking after himself.
To the organ recipients in the audience I want you to know that we as a donor family think of you often. Our wish for you is that you are embracing life. That is truly a great thing and means so much to us. Thank you for respecting and honouring my Dad's and your donor's legacy and the gift of organ donation.
As a Gold Coast Health staff member my message to my colleagues and friends is to say 'donate'! My work at GCUH sees me caring for the multitrauma patient where I see day to day how easily life can change and how sometimes these types of decisions need to be made by families and made quickly. Make the decision easy for your families. My Dad was a registered Donor but most importantly my mum new what his wishes were at that critical time. This made it easy to say YES to donation when we were asked.
Only 27% of Queenslanders are registered donors. So I challenge everyone here today…think about donation, have the conversation with your families and jump onto the Australian Organ Donor register. If you think you are registered through your license you are not. This was phased out many years ago. I tested the new process out the other day and it took less than a minute to register. This one easy step, this one minute, could give one person a second change at a lifetime.
To become a registered organ donor, go to Donate Life