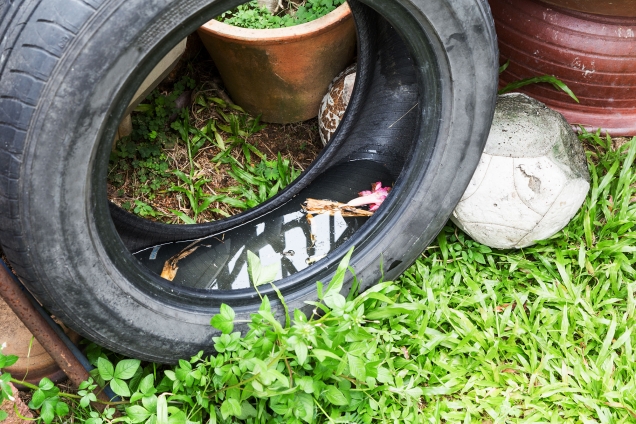 Gold Coasters are being encouraged to take 15 minutes before the Australia Day long weekend to look around their homes and empty containers that may be full of water from the rain to prevent mosquito breeding.
Gold Coast Public Health Unit and City of Gold Coast expect mosquito numbers to increase in coming weeks due to the recent storm activity and rainfall.
Mayor Tom Tate said the City conducted a number of extensive programs to control mosquitoes.
"Mosquitoes can be more than just a nuisance. They can spread disease particularly when numbers increase after periods of heavy rain and high tides when they can readily breed."
Gold Coast Health Environmental Health Team Leader Dieter Jurgeneit said people should protect themselves and their family from mosquito bites and to prevent further mosquito breeding.
"Residents can do this by inspecting around your home and yard for standing water, which serves as a mosquito breeding site, and tipping it out," Mr Jurgeneit said.
"Our advice for people is to tip water from outdoor containers and objects, store items away when not in use and throw away items you do not use."
The following are simple things that can be done to prevent mosquitoes and mosquito-borne disease:
Remain vigilant at all times of the day (because different disease-carrying mosquitoes can bite at different times), but especially at dawn and dusk.
Wear long, loose, light-coloured clothing.
Use an insect repellent that contains DEET or picaridin. Read and follow all directions and precautions on the mosquito repellent product label, especially for infants.
Empty any containers holding water around the house and worksite weekly.
Install and maintain insect screens on all doors, windows and rainwater tanks.
If planning an overseas trip, see your GP for a travel health consultation.
Mayor Tate said the City invests significantly in aerial and land-based treatments of known breeding sites such as saltmarsh and mangrove habitats.
"This continues throughout the year but intensifies when conditions favour increased breeding.
"City officers work long hours in challenging conditions in an effort to keep ahead of any potential problems to make the outdoors as comfortable as possible for the community.
"We ask residents to help control mosquito numbers by checking regularly around your homes for any potential breeding sites. Be on the lookout for mosquito larvae in any standing water, change it regularly or remove it altogether.
"It's important to know how to identify mosquito larvae in order to combat mosquitoes in your own home, so make sure you know what you're looking for!"
Council officers will continue with increased treatment programs in the coming days.
More information about how to avoid mosquito-borne disease is available on the Queensland Government website.
More on the Council's strategy to control mosquitoes is available on the City of Gold Coast website.
For further information phone Gold Coast Public Health Unit on 5667 3200.