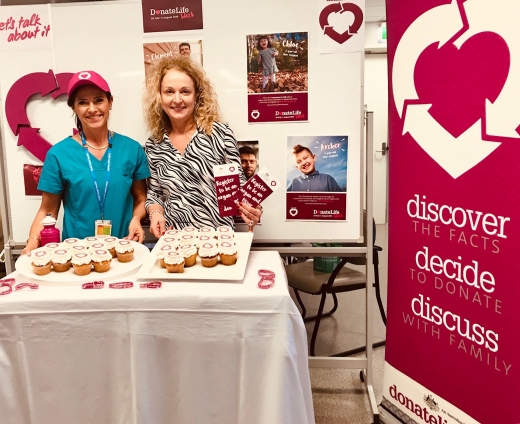 Gold Coast Health staff are encouraging community members to sign up to the national organ donor register during DonateLife Week.
Gold Coast Donation Specialist Nurse Coordinator Amanda Leitch said discussing organ donation with loved ones and registering your decision online was of vital importance.
"If every registered Queenslander signed up just one person, we would double the rate to more than 2 million people registered," she said.
"With only 28 per cent of Queenslanders registered, I encourage people to talk to their family and friends about their donation decision.
"More than 1,400 Australians are on waiting lists for a life-saving transplant - many of these are Gold Coasters.
"Registration is so important - 9 out of 10 families agree to a donation proceeding when the deceased is a registered organ donor. It gives families peace of mind knowing their loved one's wishes are fulfilled."
Ms Leitch delivered DonateLife-themed cupcakes to staff in the Intensive Care Units of Robina and Gold Coast University hospitals as a sign of appreciation for their support of organ and tissue donation.
DonateLife Week runs until 4 August.
One organ and tissue donor can transform the lives of up to 10 people. If you're 16 or over, consider signing up.
For information and to register to become an organ and tissue donor visit donatelife.gov.au