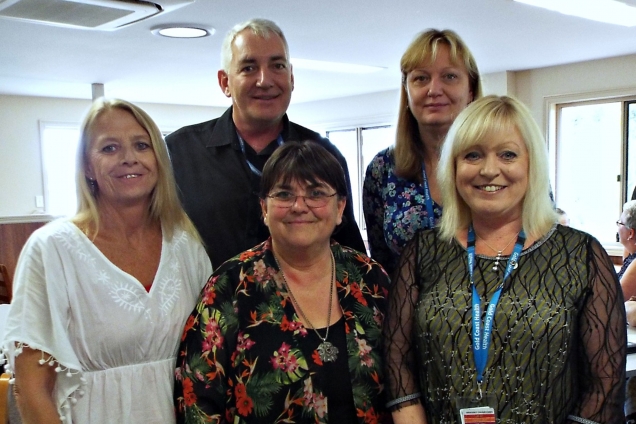 During the past decade Gold Coast Health's Homeless Health Outreach Team (HHOT) has helped rebuild the lives of people experiencing mental health issues and other difficulties that lead them to living on the streets.
The multi-disciplinary team of 20, which includes psychologists, psychiatrists, occupational therapists, social workers and drug and alcohol experts, marked the 10th anniversary with a brunch at CityLink Resource Centre, Carrara.
Team leader Hazel Bassett, an original team member, said her staff experienced the worst side of homelessness and mental health but there have been some good outcomes.
"Our outreach team has grown from four to 20. We have helped about 2000 people since we started and our Gold Coast University Hospital Homeless Emergency Department Liaison Officers (HEDLO) help about 40 people a month," she said.
The outreach team works three shifts from Monday to Friday, starting at 6am and two afternoon shifts until 10pm at weekends, to help homeless people living rough.
"Our team members help build trust with people on the street who would not normally associate with health services," Mrs Bassett said.
"We do a lot of our work in parks and meet many people at food outlets and kitchens as well as regular clinics at Southport Library."
Mrs Bassett said collaboration was critical to the outreach team's success.
"Through linking with about 60 organisations in the Gold Coast Homeless Network, we've been able to work together for the homeless," she said.
"One of our most positive stories was working with agencies to find emergency and permanent housing for a young homeless mother living in a vehicle with her child.
"She later became a consumer companion for our mental health program and for five or six years was a member of our staff recruiting panel as a consumer representative.
"She had a great understanding of what staff would need to be dealing with in their daily work and was a very important part of our recruiting process.
"Other positive outcomes included reconnecting a family with their daughter after ten years. The family thought their daughter was dead, but through our work we helped the daughter and her young child reconnect with the family.
"We've worked with agencies to find housing for people who've been homeless for lengthy periods.
"Our hospitals are hotspots for people presenting as homeless, and as a result we have our HEDLO team of two people working seven days a week to help those hitting crisis point.
"The majority are rough sleepers with smaller groups of secondary homeless including couch surfers and tertiary homelessness such as boarding house residents.
"HEDLO is part of the National Partnership Agreement on Homelessness and helps people get housing, as well as providing clothing and toiletries.
"This time of the year is one of our most challenging periods with schoolies and Christmas holidays driving up accommodation prices. Locals are also reporting "move on" has started with the 2018 Commonwealth Games pending.
"Many people become displaced around car racing, schoolies and summer holidays because often they stay in cheap motels, but are forced out by increased rates at peak tourism time.
"When we experience extreme weather events, our homeless tend to go to cheap motels for a few days to use the air-conditioning in hot weather or in rainy periods to get their clothes dry."
Gold Coast Health has a 24-hour specialist mental health care phone number – 1300 MH CALL (1300 64 2255).