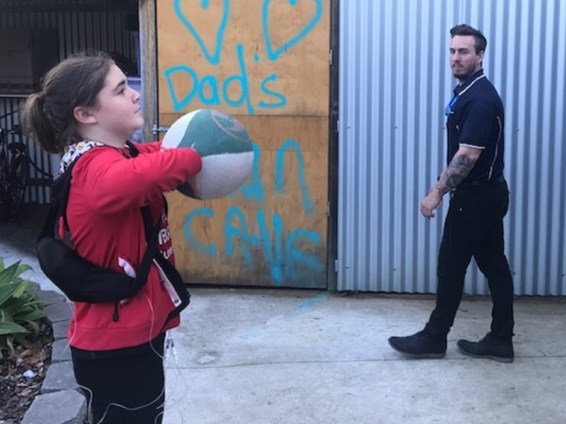 Young Gold Coasters are among the latest to benefit from a Gold Coast Health service bringing in-hospital healthcare to patients at home or school.
Minister for Health and Ambulance Services Steven Miles today took a first-hand look at how Children's Hospital in the Home was giving children and young people aged 1 to 18 the chance to avoid lengthy hospital stays.
"This service is providing Gold Coast children and their families a level of care equivalent to being in hospital, in the comfort of their home," Minister Miles said.
"Having met young Jalan and her family today, I can see how bringing high-quality paediatric nursing care or allied health services like physiotherapy into the home for a daily visit can have a huge impact.
"Hospital stays generally come with time away from school for young people, time off work for parents, as well as costs for parking or incidentals – so this service will really take the pressure off eligible Gold Coast families."
"Children's Hospital in the Home is another great example of how we are thinking outside the square to innovate and deliver patient-centred care."
Gold Coast Health Paediatric Consultant Dr Jennifer Deacon said the seven-day-a-week service, introduced on 1 March 2018, is already helping to ease demand for inpatient beds.
"So far we've had 52 admissions to the Children's Hospital in the Home service and these children would otherwise require care at the Gold Coast University or Robina Hospital," Dr Deacon said.
"The Gold Coast has one of the fastest growing populations of young people in Australia, so this has a flow-on impact on demand for our children's health services.
"Since the service commenced in March, we've already saved the health service 387 bed days, which is helping us to manage our current demand."
Children's Hospital in the Home patient Jalan Stanley has had countless hospital stays to treat her Cystic Fibrosis over the years, and dad Darren says this new service has allowed some normality to return to family life.
"Jalan's Cystic Fibrosis treatment requires her to present to hospital every six to eight weeks, with each stay up to three weeks long for intravenous antibiotics and chest physiotherapy," he said.
"The flexibility of the service allows staff to work with us to fit Jalan's care into her routine which is a huge help towards her being able to live like other kids her age and makes managing her illness easier on our family.
"For example, Jalan can be at home rather than being couped up in isolation and she has the freedom to do what she wants and go to school because the nurse and physio can go and see her if needed."
More than 5000 children are admitted to the Gold Coast University Hospital children's ward each year. That's in addition to 13,500 appointments in children's outpatients in 2017 alone.
Children's Hospital in the Home is modelled on the original Hospital in the Home service that's been running at Gold Coast Health for more than 10 years.