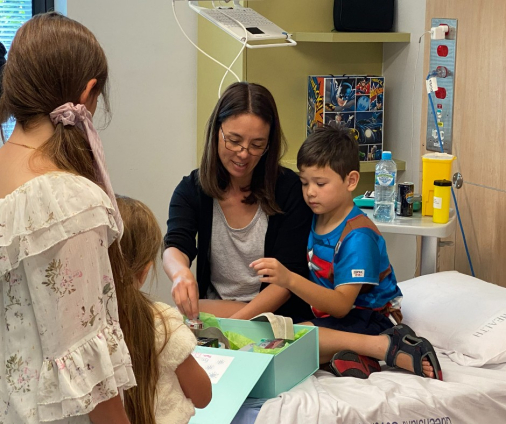 Jesse, 7, and his family were holidaying on the Gold Coast. They were having a great time and planned to visit theme parks before mum's intuition landed him in hospital.
Mum Vanessa was a bit worried after she noticed Jesse had been more thirsty than usual and going to the bathroom more frequently at night. She recognised the symptoms of possible diabetes and took Jesse to children's emergency.
Emergency Physician and Paediatrician Dr Christa Bell said unfortunately Vanessa's fears were confirmed.
"Jesse's blood sugar was high, and he started to experience early diabetic acidosis. He needed to have a cannula placed in his arm to take bloods and have some treatment," Dr Bell said.
"He is an incredibly brave seven-year-old boy who has taken everything in his stride and his mum's hunch ensured we could help him before he became sicker."
Jesse has had a lifechanging diagnosis and was given a beautiful box of arts and crafts from community charity Oli's Gift.
"We gift children an age-appropriate craft box and their faces light up. It's a lovely thing we can do for children and their families, to connect them to being a kid again in a hospital environment," she said.
Learn more: https://www.olisgift.org/