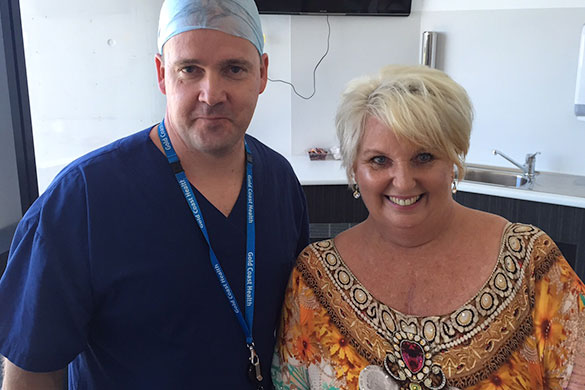 Grandmother Lee Hoskin has been reunited with the team who saved her life as Gold Coast University Hospital's (GCUH) Cardiac Surgery Service prepares to care for its 500th patient.
Ms Hoskin, 53, spent three days in a coma last year after suffering a heart attack. After being nursed back to health at GCUH, she underwent the heart surgery that has changed her life.
She is one of almost 500 public patients who have benefited since the cardiac surgery service was launched at GCUH in early 2014.
Gold Coast Health Director of Cardiac Surgery Dr Ben Anderson said since launching two years ago, the cardiac service had grown to a fully-fledged operation that was allowing locals to undergo heart surgery closer to home.
"We are proud to be able to offer this valuable service to public patients on the Gold Coast and save them the extra heartache of being far from home at such a stressful time," he said.
Dr Anderson also addressed a media report suggesting an 81-year-old patient had died after his cardiac surgery was delayed.
"There was no delay," he said. "The patient was simply too sick to be operated on.
"We are reviewing his case at the request of his family but it's important to note it is not a clinical investigation. The care he was provided was not only appropriate but essential.
"I'd also like to stress that the patient's experience was in no way linked to staffing levels. There was no reduction in essential services over the Christmas period, with patient safety always paramount."