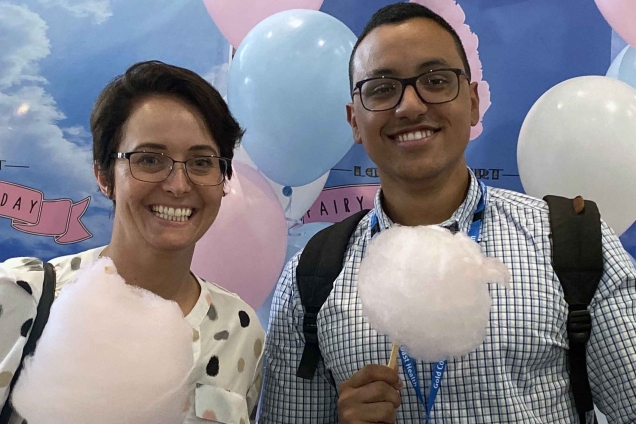 Gold Coast Health's doctors, nurses and healthcare workers wore bright shirts on 7 February to raise awareness of mental illness within the medical profession.
The annual Loud Shirt Fairy Floss Friday is designed to start conversations about mental health in the workplace and provide a peer-to-peer support network.
Emergency Physician Shahina Braganza said while Gold Coast Health has many avenues to formally support the mental wellbeing of its workforce, staff-led activities like Loud Shirt Fairy Floss Friday were also effective ways of addressing the stigma of mental illness.
"Events like Loud Shirt Fairy Floss Friday normalise workplace conversations around wellness and the normal psychological struggles we all face," said Dr Braganza.
At lunchtime on Friday, staff came together in a blaze of colour to join in some fun activities, including some creative arts, to help ease the stress of their day and join in this important conversation.
"Wearing loud shirts and treating ourselves to some brightly coloured fairy floss reminds everyone that we are humans too.
"The key ingredient to tackling this important issue is our staff connecting on a peer-to-peer level through shared vulnerability," said Dr Braganza.
Statistics show:
Medical professionals are more likely to die by suicide than the general population: female doctors 2.2 times more and male doctors 1.4 time (Medical Journal of Australia, 2019).
20% of medical students experience suicidal ideation. (Medical Journal of Australia, 2019).
50% of junior doctors experience moderate to high levels of distress. (Medical Journal of Australia, 2019).
58% of doctors feel embarrassed when seeking medical treatment for mental health issues (Beyond Blue, 2019).
Healthcare workers experience Australia's highest levels of emotional exhaustion.