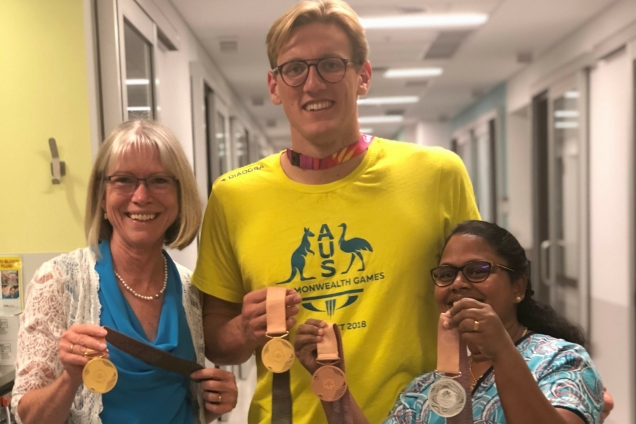 The dedicated staff working on the frontline at Gold Coast Health are celebrating a gold medal performance during the Commonwealth Games today.
With the GC2018 Commonwealth Games designated hospital status ending today, Minister for Health Steven Miles has thanked the staff at Gold Coast University Hospital and Robina Hospital, who celebrated with a BBQ.
"This has been a gold medal performance by all the team at Gold Coast Health, with all the data showing that they managed the demands of the Commonwealth Games, which came on the back of the Easter holiday period, extremely well," Minister Miles said.
"The Gold Coast University Hospital is already the busiest emergency department in Australia and presentations over the Games period and school holidays were up about 7 per cent on the same period in 2017.
"Included in the presentations were more than 440 directly related to the Commonwealth Games who were transferred to GCUH or Robina Hospital for treatment for conditions ranging from fractures, to malaria and dehydration.
"This number was well in excess of expectations as the previous Commonwealth Games reported less than 100 patients transported to hospital in total. In addition, a range of potential issues were well managed by Public Health resulting in no disruptions or outbreaks during Games period."
Ahead of the Commonwealth Games, the health service undertook two years of extensive planning with partner agencies including the Queensland Ambulance Service and the Queensland Police Service.
"The health service has achieved its goal of keeping patients flowing through the system by seeing more patients in time in the Emergency Department, and ensuring that the community continued to receive quality care, during this once-in-a-lifetime event," Minister Miles said.
"Gold Coast Health even posted zero longs waits for patients awaiting surgery in March and will do the same in April, which is a great achievement considering elective surgery was scaled back during the Games period."
Fast facts about the health service during the Commonwealth Games
Two years of planning with partner agencies
More than 150 Gold Coast Health staff volunteered as Games Shapers
Over 440 Games-related presentations to emergency departments at GCUH and Robina Hospitals from 17 March to 15 April
178 inpatient admissions were Games-related
23 outpatient occasions of service
68 athletes from Australia, New Zealand, South Africa and Jamaica visited staff and patients at GCUH during the Games
Gold Coast Health staff were seconded to develop and run the polyclinic in the Athletes Village and medical equipment from the polyclinic will be a Games legacy
The polyclinic included a satellite pharmacy staffed and stocked by Gold Coast Health.