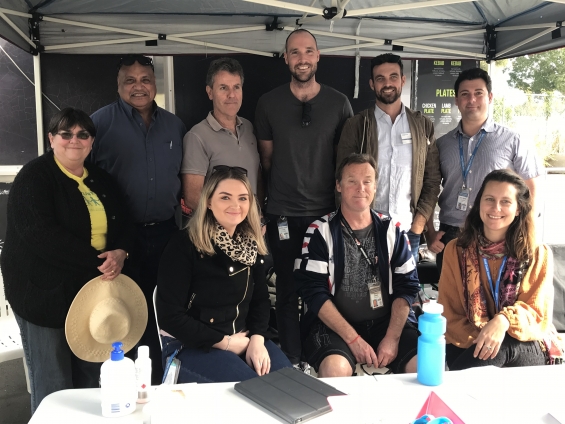 Teams from across the health service headed to Metricon Stadium this month to assist some of the City's most vulnerable people.
The annual Homeless Connect event brings together government agencies, business and the broader community to help people who live in poverty.
Doctors, nurses, allied health, social workers and others from a range of Gold Coast Health areas participated.
Vaccination saves lives
The immunisation team Linda and Aliesha delivered about 20 vaccinations by 10am – predominantly for influenza and tetanus.
They wear 'Vaccination causes adults' t-shirts not just to spread the message but because it's a casual environment where official uniforms would look out of place.
A man approaches the stall for a chat - Linda remembers giving him a tetanus shot already this year. He proudly shares that he's protected for the flu season too. They haven't administered a vaccination, but they have provided a few minutes of friendly conversation.
"For Aliesha and I it's our fourth year at Homeless Connect so we remember a lot of these consumers," Linda says.
By the end of the day the public health team has delivered 50 vaccinations.
Connecting with others
Up in the chairman's lounge, the Alcohol and Other Drug Service (AODS) has a stall lined up alongside other service providers with information on their service, which can assist people dealing with addiction issues.
Attendees approach for a free squishy stress ball in the shape of a star, a free pen or wristband and they leave knowing not only that such a health service exists, but how to get help (the merchandise brandishes the AODS website and phone number) should they choose to do so.
"We know this isn't a private environment where people are going to open up and talk about issues – they'll do that over the phone in privacy.
Our aim is to plant the seed, have conversations and let people know what we do," Freya, an allied health worker, says.
Medical help at hand
Emergency department doctors and nurses, alongside medical students, are positioned in front of a sign that promotes 'free health checks'.
They take blood pressure levels, blood sugar levels and can provide attendees with a booklet to record these details in.
Anyone requiring closer attention went upstairs where they received treatment from clinicians in a private setting. An estimated 50 people did this throughout the day with common complaints
Talking about oral health
It was the oral health stand next door that proved more popular – hundreds took away free toothbrushes, toothpaste and floss and were able to have their questions answered by an oral health assistant.
Twenty-eight clients had an appointment with one of the health service's dentists.
Reaching out
Back on ground level, Homeless Health Outreach Team (HHOT) leader Hazel Bassett is busy in a dual role – she's in charge of the 200 volunteers coordinated by event hosts Gold Coast Homeless Network, and the multidisciplinary health team she leads has a strong presence.
The HHOT team is at the coalface of healthcare to people experiencing homelessness.
Their mission is to minimise the health problems of people living rough, or at risk of losing their housing, by delivering mental health, drug and alcohol services.
Scott, a nurse who moved from a ward to community outreach a couple of years ago, says it's a dynamic and rewarding role.