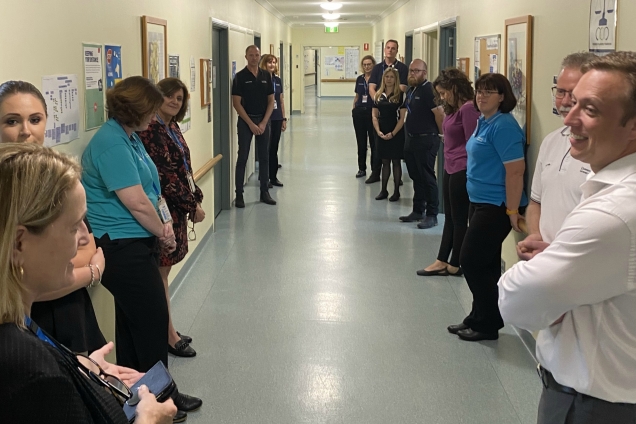 Deputy Premier and Minister for Health Steven Miles and Member for Gaven Meaghan Scanlon saw first hand how epidemiologists used a contract tracing app which was developed in a matter of weeks to help fight COVID-19 on the Gold Coast.
The Deputy Premier visited the Carrara Health Precinct on the Gold Coast to thank staff for their tireless efforts to support Queensland's COVID-19 response.
"Queensland's health response has been possible due to the hard work of our health heroes," Mr Miles said.
"What people might not realise is the magnitude of the work that is done behind the scenes to help make that possible.
"I want to thank each and every staff member here and across the state for their tireless efforts these past few months in keeping Queenslanders safe."
During the tour the Deputy Premier and Member for Gaven Meaghan Scanlon were shown by epidemiologists the contract tracing app that became a crucial resource in supporting the GCPHU's efforts.
Member for Gaven Meaghan Scanlon said Gold Coasters can be extremely proud of the talent bank they have on hand that's helping to keep them safe during this pandemic.
"Thanks to the expertise of staff like those based here at Carrara and the diligence of Gold Coasters in following Chief Health Officer Jeanette Young's advice, we have seen no new community cases notified to the GCPHU since the 28th of August," Ms Scanlon said.
"I'm really pleased to have been able to hear in person from the public health team leading this work, and overseeing the care and monitoring of those who spent time in quarantine here on the Gold Coast."
The Deputy Premier said the numbers to come out of the GCPHU's contact tracing efforts to date had been quite extraordinary, and demonstrated just how relentless the team were in staying ahead of the virus.
"As an example, some 215 confirmed cases on the Gold Coast have been interviewed to determine close contacts, while almost 2,769 people have been identified as close contacts on the Gold Coast and have been followed up with," Mr Miles said.
"On top of that, 4,593 travellers have been monitored, with those close contacts and travellers being monitored through a total of over 33,000 surveys or contact points since."
Gold Coast Public Health Unit Director Sharon Jurd said the unit was proud to be able to share some of the behind-the -scenes work being done to protect Gold Coasters.
"It's also a fabulous opportunity to recognise the broader scope of what our COVID-19 response entails," Sharon said.
"From working with business to increase their patronage through COVID-safe planning, to supporting people in quarantine to visit their loved ones palliative care, our team have risen to the demands the virus has presented along the way with ingenuity.
"It's important to note as well, and show appreciation for the many Gold Coast Health staff who have been redeployed from their regular positions to join and support our contact tracing efforts."
During his visit to the Gold Coast, the Deputy Premier called in to see Gold Coast University Hospital patient Richard Misior who has had a long road to recovery after testing positive to COVID-19 back in mid-March.
81-year-old Richard has been GCUH's respiratory ward since June, following a 77 day stay in intensive care.
In speaking with the Deputy Premier, Richard attributed his recovery to his wife, his confidence that he would get better, and the medical teams taking care of him.
"Initially it was very hard as I was literally paralysed. I was in an induced coma, so I had to work very hard to start recovering," Richard said.
"It has caused a lot of damage to my lungs. My sight changed a bit, my hearing got worse, my voice disappeared and I couldn't taste anything but after the first two months or so, things gradually improved over time.
"The doctors and nurses are wonderful. The physiotherapists are doing a great job and I can almost walk by myself now. The doctors brought me back to life and the nurses and physios kept me going."