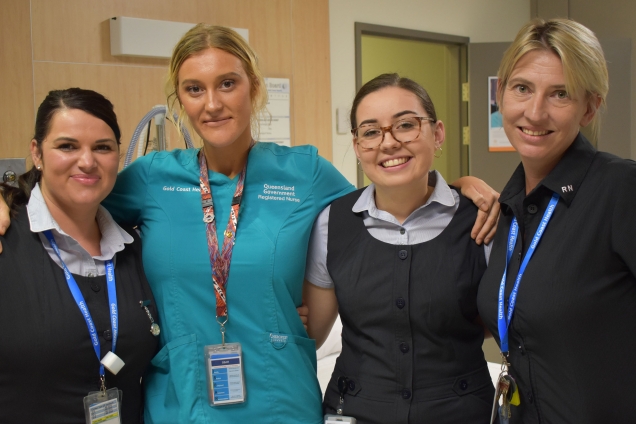 Gold Coast Health has welcomed 142 new nursing and midwifery graduates in 2019.
Professor of Nursing and Midwifery Anita Bamford-Wade welcomed the new nurses and midwives, saying they were joining a workforce which was highly regarded by the Coast community.
"Our nurses and midwives play a pivotal role in the clinical care of thousands of patients each year and are an outstanding asset to our health service.
"Recent patient survey results have reinforced that our nurses and midwives always strive to do their best for patients and their families," Professor Bamford-Wade said.
"This next generation of nurses join our organisation at an exciting time as our hospitals transition to become fully digital in April with the introduction of ieMR."
They are supported throughout their transition year with dedicated nurse educators working with them to develop confidence and professional skills as part of a focus on lifelong learning.
Jenna Scott, who has been assigned to a stroke neurology ward, is keen to start her nursing career.
"The structured orientation makes us feel so supported and we're well informed before moving on to the wards. I'm looking forward to the cultural and learning opportunities that Gold Coast Health promotes such as rural exchanges," Ms Scott said.
After 14 years as an emergency medical dispatcher with Queensland Ambulance Service, Richard Colson will begin his new career in a general medicine ward at Gold Coast University Hospital.
"My philosophy is that no one really wants to be in hospital, but if we as nurses can make a difficult time better, and leave them with a lasting impression of how they've been treated, in addition to the clinical care of course, then we have done our job well," he said.
"What's drawn me to Gold Coast Health and what I've experienced so far, is the culture of the organisation – there's a culture of safety and support."
Professor Bamford-Wade said this year's Gold Coast graduate cohort included six who identified as Aboriginal and Torres Strait Islander origin.
"We are committed to increasing the proportion of Aboriginal and Torres Strait Islander staff across all levels of our workforce," she said.
Among the 142 graduates are 21 midwives and 21 nurses who would be allocated to mental health.
Gold Coast Health is on a journey towards Magnet Program ® designation which recognises nurses and midwives for providing high standards of evidence-based care to achieve exemplary patient outcomes and provides a framework for building excellence within healthcare services.