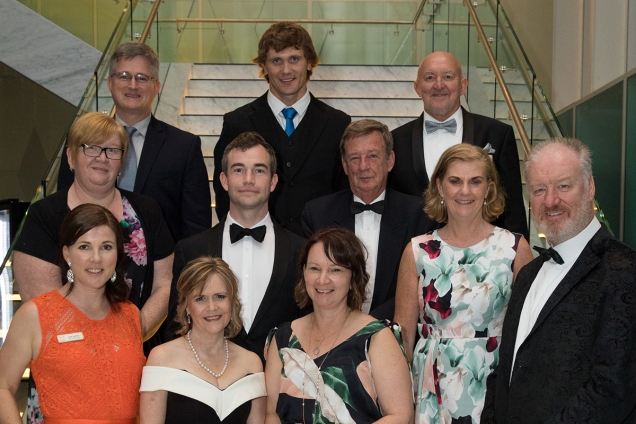 Gold Coast Health's annual staff awards night – the Golden Gala Awards – have been presented for 2017, showcasing our outstanding staff living the Gold Coast Health values.
Almost 900 staff filled the venue at RACV Royal Pines Resort on Saturday night, celebrating the winners who were chosen from a record 310 nominations.
Gold Coast Health Chief Executive Ron Calvert said the seven winners inspire us all to do better.
"The Golden Gala Awards provide richly-deserved recognition, but we must also celebrate the inspiration the nominees impart throughout our health service," Mr Calvert said.
"When we are trying to be better, when we see others trying to be better, then the lessons we learn along the way are of far greater value than if we are just trying to get by."
The Golden Gala 2017 winners are:
Gold Coast Hospital Foundation Award
Perinatal Rooms Loss Spaces: Joanne Everingham and Glenda Hondroudakis, Maternal Fetal Medicine
Gold Coast Hospital Foundation has funded 120 projects this year and the finalists for this award were chosen from these projects. Staff voted on a project they thought best helped patients to overcome distress and hardship. The loss spaces are three beautifully decorated spaces which were created and funded by the Gold Coast Hospital Foundation to assist mothers and families experiencing perinatal loss. The two waiting spaces provide a comforting environment and help reduce distress of families in need.
Community First Award
Grant Turner, Exercise Physiologist
The winner of this award keeps patient and community interests at heart and from 26 nominations, Grant was chosen because he puts his heart and soul into educating, guiding and motivating clients towards improving their health through exercise and activity. Grant's nominator said he "has contributed to the Gold Coast Community for over 10 years, and this dedication will be felt by many long into the future".
Respect Award
Dr Michael Basedow, Registrar
Michael encourages others to strive for high standards by making the time to ensure his patients are well informed and engaged, and treats them with dignity and consideration providing care that is respectful of a person's culture and beliefs.
Compassion Award
Simone Tolley, Registered Nurse
From 46 nominations, Simone took out the Compassion Award as she demonstrates understanding, sensitivity and empathy in the creation of 'twiddle muffs' for dementia patients. In her own time and with her own money, Simone has been making twiddle muffs which are sensory gloves for patients with dementia. Her nomination form stated: "Working with her on the ward, she has always been kind and courteous to me as a colleague, and now I see her go the extra mile for patients too."
Integrity Award
Mark Luchs, Director Solution Delivery Services
Mark was chosen as the Integrity Award winner as he displays integrity in all his relationships with patients, co-workers and stakeholders. Members of Mark's team nominated him, saying his honesty and empathy in dealing with difficult situations was an example of his personal and professional integrity.
Excellence Award
Michelle Foster, ADON Cardiac, Renal, Respiratory and Thoracic Services
Michelle works across several services lines, and her vast knowledge and willingness to gain knowledge plays a strong part in her success. She was one of 69 nominations for the award which recognises outstanding service to colleagues, patients and stakeholders.
Empowering People Award
Gold Coast University Hospital Emergency Department
Against a field of 51 nominations, the award for Empowering People Award was won by the GCUH Emergency Department team for their outstanding, inspiring and engaging leadership. Nurse Unit Manager Liz Green has inspired the team to participate in the Sony Camp for school and university students who take on the care of children with special needs over three days. Liz and the team teach the students how to care for and respect the camp attendees who have special needs.
Congratulations to all the winners and those across the health service who were nominated.