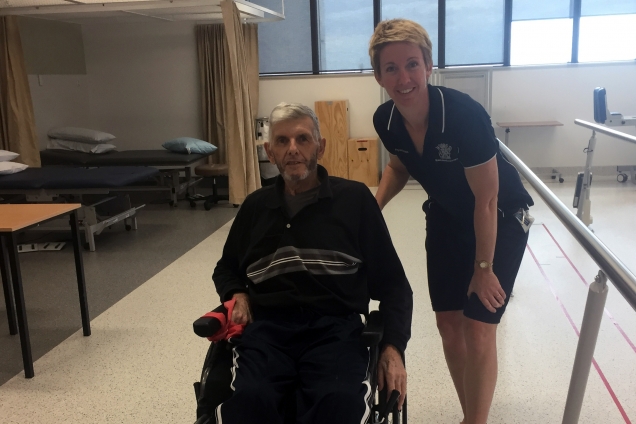 Gold Coast Health is joining an international campaign to curb the number of presentations to our emergency departments that result from falls.
With falls the fourth most common reason people present to our emergency departments, the April No Falls campaign aims to educate older people and their families on what they can do to prevent falling, which often leads to hospitalisation and a loss of independence and confidence for older people.
Clinical Governance, Education and Research Executive Director Professor Marianne Vonau said falls and fall-related injury was a major issue for all hospitals and health services.
"In 2016, nearly one in three people who came to our emergency departments at Gold Coast University and Robina hospitals as a result of a fall was aged 65 and over.
"Of those older people, 69% were admitted to hospital with many undergoing rehabilitation with allied health experts to get them back on their feet. They are then often referred to our community services to continue their rehabilitation at home," Professor Vonau said.
Falls in older people can be attributed to trips on raised obstacles such as rugs, cords or matts; slipping on wet or highly polished surfaces; tumbles and stumbles down stairs; falling off a ladder; falling over in a shopping centre or while using public transport.
Research shows that many falls among older people can be prevented.
Professor Vonau said the older people who invested in their strength and balance abilities could notice improvements in their enjoyment of life, mood, health, confidence and independence.
The theme of this year's April No Falls month is 'Stay strong, stay safe, stay on your feet' and Gold Coast Health is encouraging the community to take steps to stay strong. Suggestions include:
adopting strength activities such as 10 x leg raises and wall push ups 2-3 times per week or as directed by your physio
improving balance with heel raises, yoga or Tai Chi
checking your footwear is appropriate
talking to your doctor about your medication every 12 months
having your vision tested every two years.
From 24-28 April inpatients at GCUH and Robina Hospital will be delivered falls prevention messages on meal trays. There will also be free Tai Chi demonstrations.
Facts about falls:
the number of people aged 65 years and older in Queensland is expected to more than triple in the next 20 to 50 years
Queensland spends $54 million a year on the treatment of falls in older people, which is more than twice as much than is spent on victims of road traffic crashes – this figure is projected to reach $320 million by 2051
the number of hip fractures resulting from a fall in Australia is expected to double by 2026 and increase fourfold by 2051.