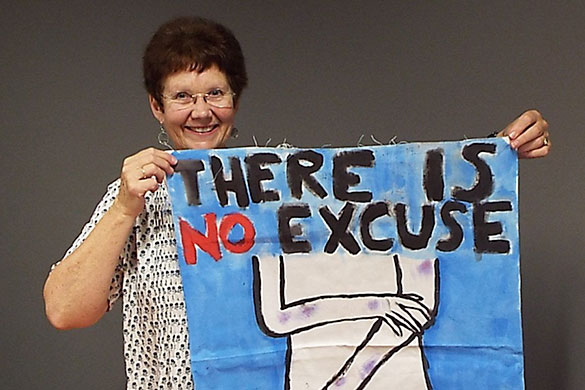 A school-based domestic and family violence and sexual assault program running in Gold Coast schools since 2011 has shaped student attitudes that violent relationships are unacceptable.
Gold Coast Health's School-based Youth Health nurse, Jackie Atkinson, a facilitator for the Love Bites Year 10 program at Elanora and Merrimac State High Schools, said "shifting student behaviour and attitudes are helping students get out of violent or potentially violent relationships."
"Unfortunately, some young people think that violence, particularly sexual violence, is an acceptable part of a relationship, but through Love Bites they are challenged to think otherwise", she said.
"Students often don't realise that relationships can become violent because they're looking through rose-coloured glasses.
"Often through giving their partner access to their Facebook account, receiving persistent phone calls or excessive texting, young people may not realise they are allowing their partners to become over-involved.
"This may exist within a pattern of behaviour linked by power and control.
"Young people sometimes don't see this because they love being in a new relationship, and it takes a program like Love Bites to influence their actions.
"Through Love Bites, discussions with peers and watching the video, they've seen powerful messages on how to get out of violent or potentially violent relationships.
"National figures show that around one in three to four girls, and one in five to six boys will experience unwanted sexual experiences before they turn 18, and one in three young people have experienced violence in their own relationship.
"At the end of a day-long program, which includes a video on a young woman left with debilitating injuries after an assault by her ex-partner, the students express their feelings about relationship violence through artwork or hip-hop song.
"I'm constantly amazed by the messages that students convey in the artwork, such as 'love shouldn't have to come with a price' or 'there is no excuse for domestic abuse'."
"After the program, students can speak with government and non-government organisations including Queensland Police Service, relationship agencies and School-based Youth Health Nurse located at every Gold Coast State High School, as well as the program facilitators."
For additional assistance, females can contact DV Connect Women's Line on 1800 811 811 and males can contact DV Connect Men's line on 1800 600 636. In an emergency, contact 000.