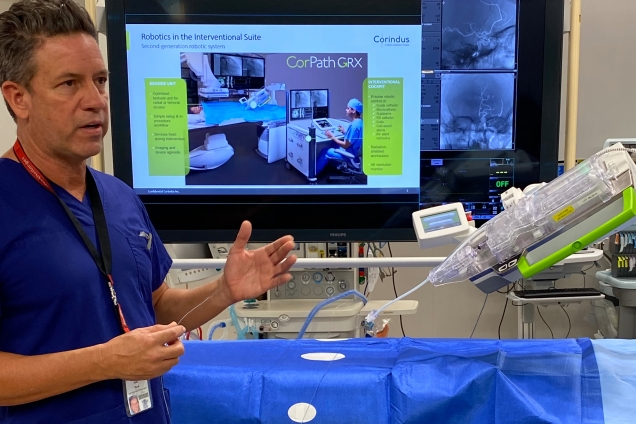 In a world first, Gold Coast Health will enrol patients in the trial of a unique robotic arm during brain aneurysm treatments at Gold Coast University Hospital (GCUH).
The Corindus neurovascular robot being used in the trial is the only one of its kind in the southern hemisphere, and only one of two in the world.
The trial is being led by GCUH's Neuro-Interventional Radiology team which uses minimally invasive endovascular reconstruction techniques to successfully treat several hundred patients with life threatening brain aneurysms and strokes each year.
Over the next six months Dr Hal Rice and Dr Laetitia de Villiers will head the team evaluating the effectiveness of the robot in assisting with complex procedures which are traditionally done by hand such as blood clot retrievals and brain artery reconstruction.
Associate Professor Rice said they expected to see both patients and medical staff benefiting from the pioneering technology.
"The Corindus neurovascular robot is operated during the procedure and allows extremely precise navigation of catheters and devices within a patients' blood vessels to successfully treat complex brain aneurysms and acute severe stroke," he said.
"As with all potentially life-threatening brain conditions, time is critical in limiting any long-term damage, so the more efficient we can be during treatment the better chance we have of achieving good outcomes for patients.
"Additionally, we operate the robotic arm from an 'Interventional Workstation' which is positioned in a separate area of the theatre to protect physicians from daily radiation exposure and fatigue during long and complex procedures."
Dr Rice added the technology could see lifesaving interventional stroke care delivered to remotely located patients who would otherwise need emergency transfers for treatment.
"Pioneering teleoperated robotic endovascular brain aneurysm and stroke treatments for patients outside of metro areas is driving our team to accelerate the technology," he said.
"It's a great privilege to be involved in what is another example of Gold Coast Health innovating technology which we hope in the future, will provide many people with direct access to safe treatment, in a timely manner."
Mark Toland, CEO of Corindus, said GCUH was a natural choice to participate in the trial.
"We're really excited to about the collaboration between Corindus and Gold Coast University Hospital as pioneers of robotic-assisted neurovascular intervention," Mark Toland said.
"Their clinical expertise will be critical to build out the future capabilities of our technology, including remote robotics to provide patients suffering from emergent conditions, such as acute ischemic stroke, access to the world's best specialists regardless of their location."