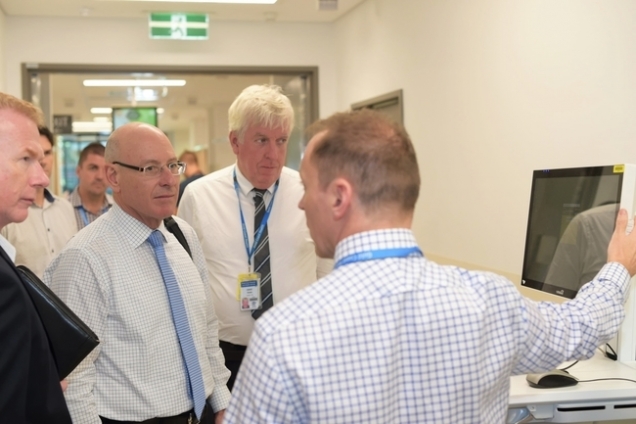 Queensland Health Director-General Michael Walsh visited Gold Coast University Hospital this month ahead of Gold Coast Health's digital transformation.
The health service is the next in Queensland to implement the integrated electronic medical record (ieMR).
Damian Green, Executive Director for Digital Transformation Services and Chief Information Officer, said the Director-General's visit gave him the opportunity to speak with clinical teams around local preparations, workflows and confidence in using the system.
"I think the D-G was impressed by the degree of confidence that our staff demonstrated, particularly in local preparations and workflows and understanding the opportunities ieMR presents to improve patient care," Mr Green said.
"We've taken a whole-of-health service commitment and have brought together some of our most experienced staff from across the clinical spectrum to drive the implementation.

Joining the digital hospital program will introduce greater benefits to our patients, with in-built medication safety mechanisms and real-time access to patient information from any location," he said.
Gold Coast Health's Clinical Director of Digital Transformation Services Dr Adam Brand, said: "It was clear to see that the DG deeply cares about this being a safe rollout and he takes an active interest in clinicians feeling empowered.

"The thing I found more interesting was that he understands that digital health has become a part of the multi-disciplinary team that cares for our patients."