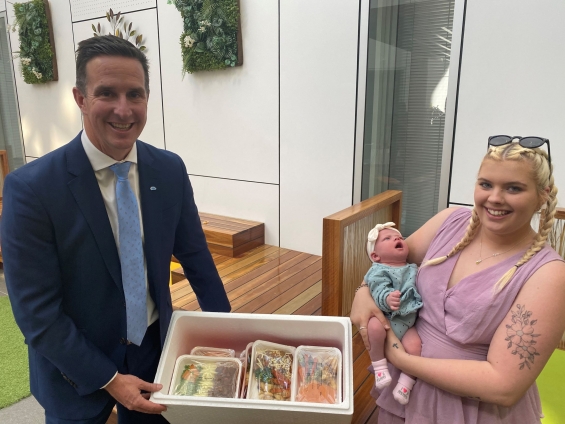 New and expecting mums across the Gold Coast officially have access to a clinically proven and highly successful program already operating through some of Queensland's largest maternity hospitals.
Chair of White Cloud Foundation, Professor Adam Scott, said the Meals for Mums program delivers practical mental health support to new and expecting mothers struggling with perinatal depression through the home-delivery of nutritious meals.
"Sadly, Queensland has the highest rate of perinatal depression in Australia, and with the ongoing impacts of COVID-19, we are seeing the number of mothers needing help increasing daily," Professor Scott said.
"At White Cloud Foundation, we are determined to change this statistic. We know a little support when a mother is struggling can make a big difference. Nutritious meals and other practical help can mean a lot for not just new mums but the whole family.
"We have seen this first-hand from our well-established program working through hospitals across South-East Queensland including RBWH, Mater, Logan, Caboolture, Toowoomba, and Redcliffe as well as Townsville Hospital and Tasmania's Royal Hobart Hospital.
"As part of this service, we also work with nurses, midwives, social workers and other health care providers to identify mums who need some extra support and can now connect them with our service.
"This program is available to all mothers who are patients of the Gold Coast University Hospital, John Flynn and Pindarra Private Hospitals, free of charge."
Professor Scott said perinatal depression is much more common than people realise and affects one in six new mothers and one in ten new fathers.
"Last year, our Meals for Mum's program experienced a 66 per cent increase in referrals due to COVID-19, with 441 families supported, more than 520 referrals received, and over 9,200 meals delivered," he said.
"Mums are the foundation of our community, and every single woman we help matters. We are pleased that Gold Coast mothers have access to this program."
Gold Coast mum of two Portia Heal welcomed baby Marlee four weeks ago and leaned on the White Cloud Foundation for some extra support.
With two young children, one less job to do each day has been a great help.
"White Cloud has been amazing with supplying me with the meals," she said.
"It's been great not having to cook dinners each night and just being able to pop them in the microwave."
Gold Coast University Hospital Midwifery Navigator Bee Schaeche said the service was invaluable for struggling mums.
"Pregnant women and new mums on the Gold Coast are often isolated, lacking in extended family supports," she said.

"The Midwifery Navigators aim to link vulnerable pregnant women with community supports, and the White Cloud Foundation is a fabulous service that assists these women with the most practical of all supports – nutritious meals to nourish the body and the mind. The Meals for Mums program saves these new mothers the time, energy and expense of shopping, cooking, and the cleaning up involved with meal preparation at one of the most tiring times of a woman's life."
Prof. Scott said he was also pleased to announce White Cloud Foundation's new and free multi-disciplinary Tele-Mental Health service is also now available to not just mothers but all Gold Coast residents battling depression and anxiety.
"Thanks to the generous financial support of the Motorama Charity Foundation and the James Frizelle Charitable Foundation, all Queenslanders can now access mental health support free-of-charge no matter where they live," he said.
"We have assembled a talented team of 40 allied healthcare professionals, from psychologists, social workers to exercise physiologists, mental health nurses and dieticians to provide tailored, holistic, clinical and practical care to treat depression from multiple fronts.
"This exceptional and experienced group of specialists will work together to develop individualised treatment plans to manage symptoms of depression and anxiety, reduce risk factors, build resilience and provide patients with strategies to better manage their mental and emotional health.
"The best part is it will all happen via technology using telehealth consultations (via phone or video conferencing), so Queenslanders can access the right treatment at the right time and at the right place.
"Anyone can access this service for the cost of a local call by calling 07 3155 3456. No referral or mental health plan is required."