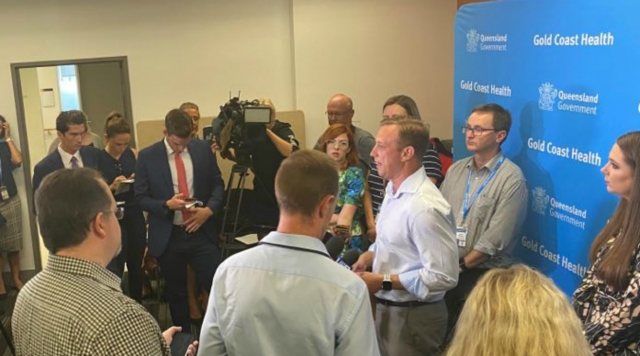 The Health Minister Steven Miles and Member for Gaven Meaghan Scanlon have received a preparedness briefing and situation report from the clinical team at the Gold Coast on coronavirus.
Ms Scanlon said the Gold Coast had world-class facilities for treating people with coronavirus, and its expert clinicians are leading the way as we learn more about the virus.

"Our local expertise is being sought around the world.
"Gold Coast Health's Infectious Diseases Specialist John Gerrard has recently returned from a trip to Japan where he was deployed to help with their coronavirus response, particularly surrounding the passengers on board the Diamond Princess cruise ship."
"Gold Coast Health has some of the State's most experienced specialists and physicians leading the coronavirus response. They successfully treated Queensland's first coronavirus patients after five people from one tour group tested positive last month and efficiently managed the quarantine of other members of the group to contain the spread of the disease.
"People like Executive Director Dr Jeremy Wellwood, Dr Audra Gedmintas who oversees Emergency and Intensive Care and the Director of Emergency Medicine and Dr David Green are among the most experienced in the State having swiftly handled SARS, Swine Flu and other infectious disease responses on the Gold Coast. Their agile and responsive teams are fully prepared to handle coronavirus presentations."
"Gold Coast Health has been preparing for all eventualities and the Palaszczuk Government is proud to support them and their efforts."

Mr Miles said Gold Coast Health had established fever clinics as an infection control measure to help isolate people with suspected coronavirus and minimise the spread of disease. The fever clinics also relieve pressure on the emergency department by keeping staff free to treat emergencies.

"Fever clinic screening stations operate at the entrances of the hospital, and people who meet the criteria for testing are given a face mask and sanitise their hands before being directed to a fever clinic for testing.
"Over the next few days, an additional clinic will open in the Robina Health Precinct to meet community demand.

Depending on the severity of their symptoms, those who test positive may be admitted to hospital or they may continue to self-isolate and recover at home under the watchful eye of clinicians using digital virtual hospital technology.

"The team at Gold Coast Health has proven they are prepared and equipped to handle increased cases of coronavirus."

"An isolation ward at the Gold Coast University Hospital was designed by Australian architects who gained experience in hospital infection control design in Toronto following the SARS epidemic in 2003. The ward has been custom built with individual negative pressure rooms allowing for the highest level of infection control."

"For most people, the symptoms of coronavirus will be mild, but for some – especially older people or those with health conditions like asthma, diabetes and heart disease – the virus could be serious and we all need to do our part to minimise the spread of germs through frequent hand washing and covering coughs and sneezes."
The Palaszczuk Government is supporting all Queensland hospitals by:
Tripling emergency department capacity and doubling intensive care capacity across all hospitals
Purchasing an additional 110 ventilators
Bringing $25 million worth of medicines, gloves and masks forward
Ensuring adequate staffing
Ensuring additional capacity for fever clinics