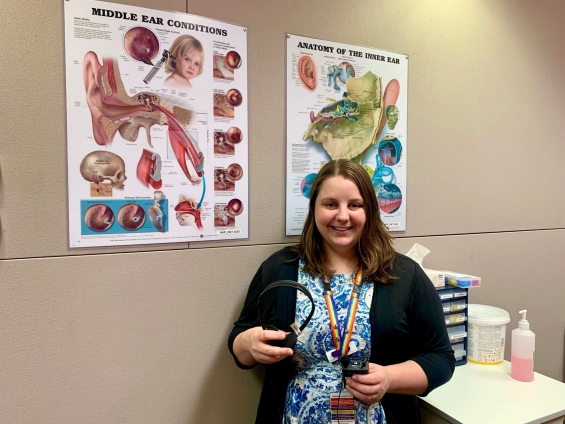 Gold Coast Health is improving access to hearing services for inpatients through its new Hearing Access Program.
The Hearing Access service at the Gold Coast University and Robina hospitals supports inpatients who have communication difficulties because of lack of amplification or hearing aid faults.
The program provides 'pocket talkers' to patients with a hearing impairment and gives inpatients access to basic hearing aid maintenance for their private hearing aids.
A pocket talker consists of comfortable headphones, microphone and adjustable volume.
Gold Coast Health audiologist Simone Michael says it has made a real difference to patient communication and access to care in the health service.
"Patients with untreated hearing loss can be vulnerable to miscommunication and feel isolated, especially as an inpatient where they might be exposed to unfamiliar medical terms and noisy environments," Simone said.
The Hearing Access Program empowers patients to participate in the program and use the options available to improve their health care.
"It's really important for our patients to understand their health condition and to have a say in the decisions that are being made about their healthcare," she said.
"We've had excellent feedback from patients and nurses about their experience with the Hearing Access Program," she said.
Simone says it's critical for staff to identify the patients who need support with their hearing so they can request support from the Hearing Access Program.
"Patients can request a referral from staff to access the program if they know they need help.
"It's about giving patients dignity and access to their healthcare."
If you're a patient or family member of a patient who needs support with hearing services, please ask your care team about a referral to the Hearing Access Program.