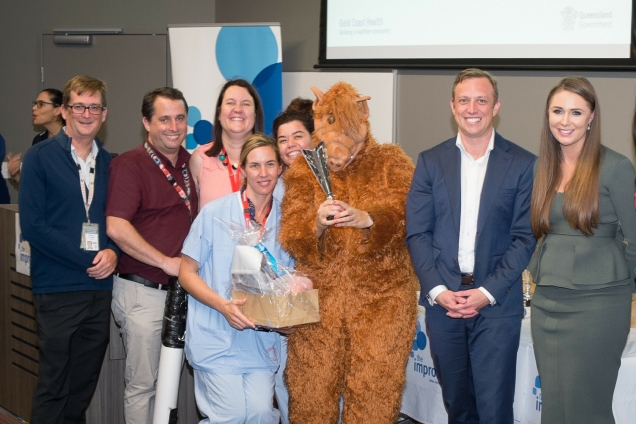 Gold Coast's premier public health innovation event has awarded more than half a million dollars to staff ideas which will directly improve patient care.
This year the Gold Coast Health's 9000-person workforce submitted 224 project proposals across six categories in the annual staff innovation awards known as The Improvers.
Thirteen finalists were invited to present their ideas in a one-minute presentation to a panel of judges and a live audience, with staff participating via a live stream as well.
Judging panel member and Minister for Health and Ambulance Services Steven Miles thanked the hundreds of staff who shared their new and innovative ideas.
"While it's important to gather inspiration from across the world, The Improvers is a reminder that some of the best ideas are home-grown right here in Queensland," said Mr Miles.
"From new ways of recycling medical equipment to creating state-of-the-art rehabilitation spaces, each of the submissions is another step towards delivering better care to the community we serve.
"It's been a privilege to listen to each of the finalists and I congratulate the winners who I have no doubt will make a real difference in the lives of patients."
This year's winning ideas included:
Category 1 ($50,000-$250,000 annual funding): Blood Management Solutions – An electronic blood fridge management system which helps reduce blood wastage, particularly for trauma patients who have a critical need for blood and blood products
Category 2 ($100,000): Nicola Morley – Buy three Ultrasonic Wound Debridement machines for the vascular wound service to help prevent diabetic amputations
Category 3 ($50,000): Caitriona Quinn – Install a CT/MRI simulator which prepares children for an MRI or CT which traditionally might require a general anaesthetic
Category 4 ($25,000): Lauren O'Connor – Buy a MOTOmed which mobilises ICU patients in their beds to help them to prevent loss of body mass, which can take up to five years to recover from
Category 5 ($10,000):

Matthew Links - Implement video technology capable of capturing lectures and workshops across Gold Coast Health
Lisa Gray - Implement facilities to enable recycling PVC from IV bags and oxygen tubing from non-infectious patients in ICU and OT
Daniel Wray: Create a 'LIFEspace' area for Robina Hospital Rehabilitation area.

Category 6 (People's Choice, up to $50,000):

Julie-Ann Hendry and Dr Joanne Doran - Virtual reality headsets allowing palliative care patients to tick off bucket list items
Grace Brandjerporn – installing a sensory garden for babies and mothers in the state's only publicly funded perinatal inpatient unit, the Lavender Unit
In addition to the formal category winners, judges awarded funding to the following projects:
Targeted laser therapy for breast and gynaecology patients ($100,000)
Introduce 'Netcoaching' which encourages children to eat ($100,000)
Mobile/tablet charging stations in high-traffic public areas of the hospitals ($25,000)
Naming and branding our 16 mobile dental clinics ($50,000)
Since the launch of The Improvers in 2014 more than $1.5 million has been awarded to staff to bring their innovative ideas to life.