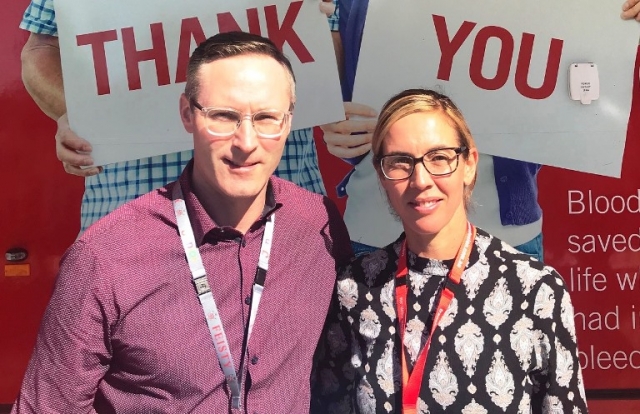 Gold Coast Health staff are competing with thousands of medical workers to give the most blood in an Australian Red Cross Blood Service challenge.
An Australian Red Cross Blood Service mobile donor centre has been stationed at Gold Coast University Hospital (GCUH) for two days to make donating easier for busy staff.
The hospital's Trauma Services Director Professor Martin Wullschleger said donating blood was close to home for many staff who see first-hand how important donations can be.
"On any given day our staff are administering blood transfusions for trauma victims, cancer patients and people with blood disease - the list is endless.
"Last year alone our hospitals used more than 9100 units of red cells from donated blood, in addition to over 2050 units of platelets."
Dr Wullschleger was among the GCUH treating team for a patient who needed 82 units of blood products following a serious fall last year.
"There's no doubt donated blood was vital to our efforts to keep the patient alive and for his significant blood needs during the recovery process," said Dr Wullschleger.
Blood Service spokesperson Belinda Smetioukh said healthcare professionals had until the end of June to make their blood count towards Gold Coast Health's tally.
"We know what a giving bunch health workers are so the competition is set to be close," Ms Smetioukh said.
The Health Services Challenge is a part of The Australian Red Cross Blood Service's 'Red25' group donation program – a social responsibility initiative where workplaces, community groups, schools and universities around Australia unite to save lives through blood donation.
Gold Coast Health employees have made 82 blood donations so far this year, saving a potential 246 lives.
To learn more about the challenge, or to join, visit www.donateblood.com.au/health