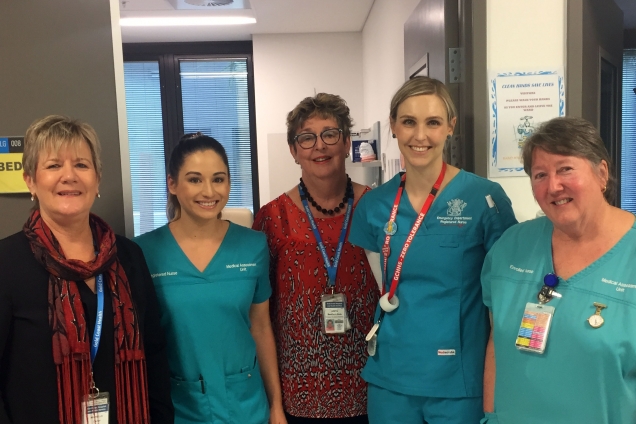 Gold Coast Health will this month formalise an educational exchange with a provincial hospital in Solomon Islands aimed at improving health care in the Pacific nation.
Nursing and Midwifery Professor Anita Bamford-Wade will travel to Solomon Islands, with 5 other nurses from Gold Coast Health, to sign an agreement to formalise arrangements between the health service and the senior leadership of Kirakira Hospital on Makira Island.
Kirakira is a 60-bed hospital that has two doctors and 30 nurses delivering services to a provincial population of more than 40,000 people.
Jenny Battershall, a nurse who works in the Medical Assessment Unit at Gold Coast University Hospital, volunteered last year as part of an informal arrangement.
She won the 2016 Gold Coast Nursing Award presented by 102.9 Hot Tomato and donated her $5000 prize money towards Strong Island Foundation, a non-profit organisation concentrating on improving the welfare of people on Makira Island.
"We are lucky and blessed as nurses here in Australia because we have everything at our fingertips," Mrs Battershall, who will return to Kirakira Hospital this month, said.
"We have great support, education and training, and we want to share this with nurses over there."
Registered Nurse Lauren Pierce is also looking forward to returning to Makira Island where she will go on the road with Kirakira Hospital nurses to outreach clinics to perform health checks on pregnant women, babies and children.
"They're very fortunate to have just two doctors (some provincial hospitals have no doctor) but nurses are really the heart and soul of that hospital and it's quite inspiring as a nurse in my career to go over and experience that," she said.
Dr Bamford-Wade said: "I'm always inspired by our nurses' sense of socially responsibility. This is but one of many examples where they're willing to share their knowledge, skills and experience to improve the health of a community."
The agreement allows for annual rotations of nurses to and from Solomon Islands to share knowledge on organisation and structure and clinical practices such as hand hygiene and wound care.
"This is more than just lending a hand to our developing neighbours – it is a unique opportunity that offers both professional and cultural exchange," Professor Bamford-Wade said.
"Our nurses who travel to Kirakira on exchange will work not only within the hospital, they will accompany local nurses on outreach to the various clinics throughout the island."
"They will not have access to the diagnostic equipment and therapies that we might take for granted at GCUH, but our nurses so far have found it amazing to reflect on how powerful a good patient history, physical examination and thoughtful plan made with the knowledge of limited resources will help the vast majority of patients," she said.
In another show of support for their Solomon Island colleagues, nurses at Gold Coast Health are donating handbags full of goodies for each nurse at Kirakira Hospital.
The nursing exchange follows a formal medical rotation established by Gold Coast Health Medical Staff Specialist Dr James Fink who is also an Associate Professor with Bond University's Faculty of Health Sciences and Medicine.
Every year about 30 final-year medical students from Bond spend four weeks assisting the two Kirakira clinicians.
For more information on Strong Island Foundation visit www.strongislandfoundation.com.au