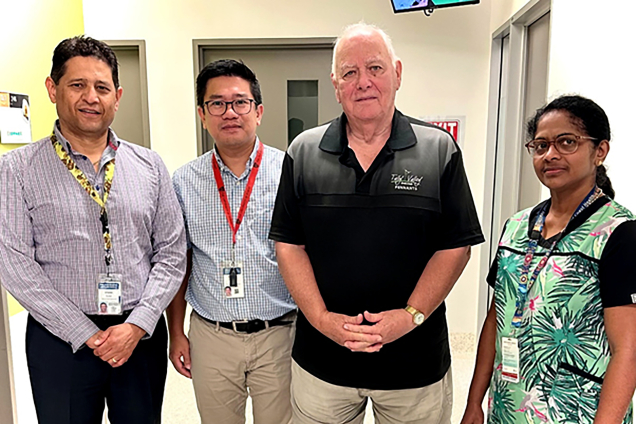 A Gold Coast Health patient is the first in Australia chosen for a clinical trial into a novel treatment for the chronic condition Myasthenia gravis.
Michael Brooks was diagnosed with the condition, a neuromuscular disease that causes weakness and fatigue in the skeletal muscles, in 2014 and is being treated as an outpatient at Gold Coast University Hospital.
Mr Brooks says he hopes that by participating in the trial he can improve his own quality of life while also benefiting others who suffer from autoimmune diseases.
"My current treatments can take the very sharp edge off my condition, but if new treatments can continue to reduce the symptoms that I and others suffer from, then I am happy to take part," he said.
Janssen Research and Development is running the multinational Phase III trial testing the efficacy and safety of Nipocalimab IV infusions for adults with generalised Myasthenia gravis.
Gold Coast Health Neurology Staff Specialist, Dr Arman Sabet said the clinical trial is evaluating the efficacy of Nipocalimab compared to a placebo.
"This is a multinational clinical trial, and I am proud to say that we have been successful in screening and recruiting the first patient in Australia," Dr Sabet said.
It is estimated that about 700,000 people are affected by Myasthenia Gravis worldwide and about 1,900 in Australia. There is no known cure.
Gold Coast Health treats about 60 people with Myasthenia Gravis each year, but Dr Sabet said some patients don't see great responses to current treatments.
"If this clinical trial is successful, it will mean that we can offer our patients a more effective treatment, resulting in stronger muscle and improved lung function which will be positive for our patients," he said.
Gold Coast Health integrates clinical trial provision into routine hospital care for improved patient outcomes, an aim of the National Clinical Trials Governance Framework, which the health service is committed to implementing.
The Framework is aligned with the National Safety and Quality Health Service (NSQHS) Standards, in particular the Clinical Governance Standard and the Partnering with Consumers Standard.