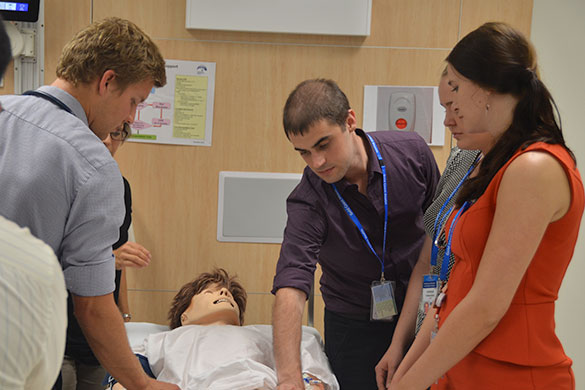 Gold Coast Health's growing reputation for innovation, research and cutting-edge training is proving a lure for medical graduates.
Another 90 intern doctors commence their careers at Gold Coast University and Robina hospitals this week, once again making the Gold Coast home to one of Queensland's biggest intern intakes.
This year's crop includes 62 graduates from local institutions – Griffith University (37 interns) and Bond University (25) – as well as 28 interns from across Australia.
Executive Director of Clinical Governance, Education and Research Professor Marianne Vonau said it was the third year in a row the health service would welcome such a large number of interns into its hospitals.
"With an intake rate only marginally behind metropolitan hospitals such as Princess Alexandra and Royal Brisbane and Women's hospitals, Gold Coast Health is playing a vital role in the training and development of the state's medical workforce," she said.
Professor Vonau said GCUH was one of only four hospitals in Queensland that offered interns the More Learning for Interns in Emergency medicine (MoLIE) program.
"The MoLIE program allows every intern completing their compulsory Emergency term to receive eight hours of non-clinical service each week to engage in pure learning from consultants," she said.
The interns are participating in an intense week-long orientation from 11-15 January which includes familiarising themselves with the hospitals, services and clinical practice and procedures. They also attend presentations and skill sessions such as suturing, cannulation, Basic Life Support, infection control, prescribing and more.
From next week the interns will work under supervision in a number of clinical areas including emergency, surgery, medicine, anaesthetics, paediatrics and mental health.
A record 740 medical graduates start work as interns at Queensland public hospitals in 2016.