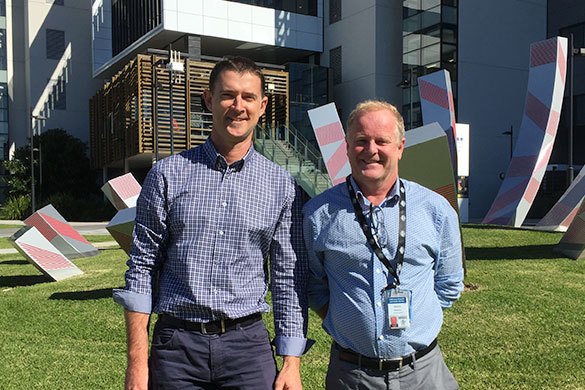 Gold Coast Health physiotherapist David Battersby will take a break from caring for his community to help the Australian women's soccer team pursue Olympic gold.
As a Clinical Lead of Gold Coast University Hospital's Neuro Orthopaedic Physio Screening Clinic, Mr Battersby works alongside neuro and orthopaedic surgeons to assess Gold Coast patients with musculoskeletal pain and determine best treatment options.
The Matildas departed Australia earlier this week and Mr Battersby joins them this weekend in Brazil for a training camp before the Olympics in August.
He has been the Matildas team physiotherapist for four years and is responsible for managing injuries as well as maximising performance and recovery.
"We've had a pretty good run since the last World Cup. It's been an excellent training programme and good individual player management that has kept our key players fully fit.
"There's certainly a belief, and the experience in the squad, that we can go all the way and get the gold medal.
Mr Battersby and his Gold Coast Health colleague Bruce Rawson are two of only 40 Specialist Sports Physiotherapists in the country.
Mr Rawson, also a Clinical Lead with the screening clinic team, attended the 2004 Olympics in Athens as the Australian baseball team physiotherapist.
"It's great for the Gold Coast community to know that they are receiving first class care of the same calibre as Australia's elite athletes," Mr Rawson said.