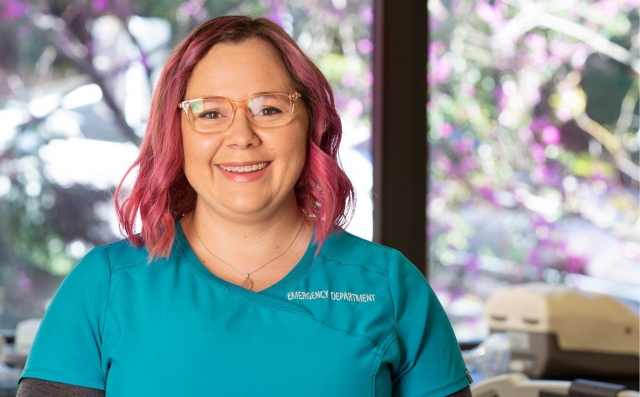 Being named a winner at the 2021 Queensland Nursing Midwifery Union Practice Awards is extra special for Ella Van-de Velde Fidock because it was voted on by her peers and community.
Ella was recently named the People's Choice Award winner and a finalist in the Positive Practice Environment Champion category.
"Knowing that my peers and our community voted for me is something that will stay with me as an incredible gift," she said.
"But it also means that I feel even more of a responsibility to show up wholeheartedly each day and give my all to our community, my colleagues and the development of our profession. It's a challenge I'm so ready to take on."
Ella is a Registered Nurse at the Gold Coast University Hospital's Emergency Department, where she has been responsible for spearheading an initiative called Building our Culture.
The initiative began with data collection, asking 370 nursing staff to self-determine their goals for organisational culture. Ella and her colleagues have designed programs that meet goals of improving five elements of culture: people and recognition, vision, key values, communication and team fun.
"I felt really honoured to be nominated in the first place, I had no expectations of getting any further than that," she said.
"Meeting some of the other finalist really demonstrated what an honour it was as they were all so incredible and heave each achieved such brilliant things in their fields.
"I felt humbled, grateful and proud that building our ED culture is worth recognition. I cried when I heard my name. Being a nurse is something I do because I love improving the lives of our patients and supporting my colleagues in their workplace. I didn't ever expect to be recognised for that."
Ella says there's a new challenge every day in the ED but her next challenge is to finish her Masters of Nurse Practitioner.
"I'm so excited to serve our community further, hopefully as a new nurse practitioner in late 2022," she said.