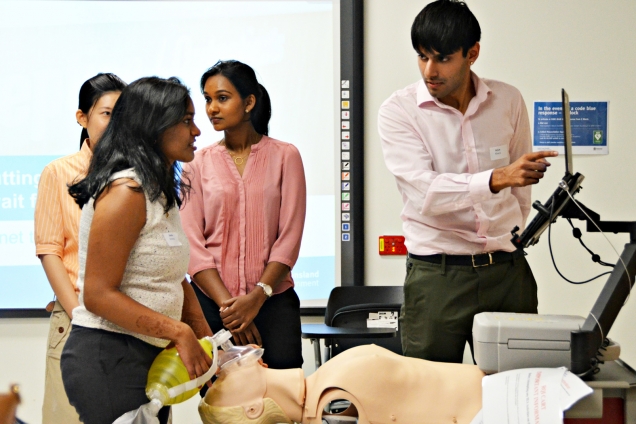 Gold Coast Health is the first Queensland health service to introduce an extended orientation for graduate doctors to provide a supportive transition from medical school to the hospital ward.
A total of 91 new graduate doctors started their internship at Gold Coast Health today.
The health service has extended orientation from one week to a fortnight to give interns the opportunity to familiarise themselves with the hospitals, services and clinical practice and procedures.
"We've extended orientation because being such a large facility, previous interns told us they wanted more clinical experience on the wards before starting work," said Executive Director of Clinical Governance, Education and Research Professor Marianne Vonau.
Gold Coast Health's fast growing reputation as a major tertiary hospital with some of the largest clinical training and research facilities in Queensland is proving to be a magnet for graduates, with 28 per cent coming from interstate.
"We're one of the few large tertiary hospitals offering rotations in most specialties including paediatrics and surgical sub-specialities," Professor Vonau said.
The 2017 medical intern cohort includes 37 from Griffith University, 24 from Bond University and five from other Queensland Universities.
During orientation, interns will work alongside their new team for two days, as well as two extra days in emergency, medicine, and surgery.
They will be exposed to clinical scenarios and training for a further six days including suturing, cannulation, basic life support, infection control, prescribing and more.
They will work under supervision in medicine, emergency, surgical sub-specialities, paediatrics, obstetrics and gynaecology, mental health, anaesthetics and intensive care at both Gold Coast University Hospital and Robina Hospital.
A total of 738 medical graduates will be employed by Queensland Health in 2017.
Medical Education Registrar Dr Shema Haima said orientation would help new graduates transition from student to doctor, enabling them to understand the logistics of new roles, assimilating to clinical duties, and learning clinical acumen.
"While five years of university study teaches you the theory of being a doctor, it doesn't teach you enough hands on workplace tasks, the clinical sensibility of recognising the sick versus the well patient, and recognising clinical deterioration in a patient," she said.
During their intern year, they will complete three 10-week core terms in emergency, medicine and surgery and have a choice of three five-week elective terms in paediatrics, anaesthetics, ICU, obstetrics and gynaecology, and some surgical sub specialities including neurosurgery and vascular surgery.