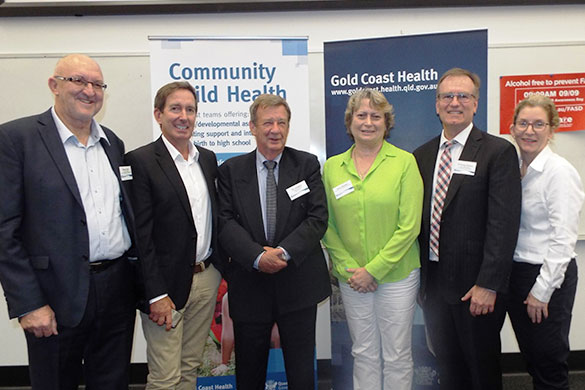 Gold Coast Health will become Australia's leading centre for the diagnosis and intervention of Fetal Alcohol Spectrum Disorder when it launches a statewide Neurodevelopment Exposure Disorder (NED) Service today.
Disorders such as brain abnormalities, low birth weight, distinctive facial features, heart defects, behavioural problems and intellectual disabilities can occur in childhood when the fetus is exposed to drugs and alcohol.
The NED Service has received $1 million in joint funding from Queensland Health and Gold Coast Health.
Gold Coast Health Director of Community Child Health Dr Doug Shelton is leading the NED Service, which was launched at 9am on 9 September to coincide with International FASD Day, a date chosen to reflect the nine months of pregnancy.
When fully operational, the diagnostic service will employ specialists including a psychologist, speech pathologist, physiotherapist, occupational therapist, a paediatrician specialist and nurses.
Dr Shelton predicts they will be able to deliver 220 diagnostic assessments each year on the Gold Coast and more than 1000 diagnostic assessments statewide once specialists from other health services are trained.
"Statistics tell us that two in three pregnancies in Australia are unplanned, 61 per cent of women consume some alcohol during pregnancy and that 60 per cent of FASD patients confront the justice system. There is a huge cost to the community as a result," he said.
"Our primary goal is to increase our ability to provide early identification and intervention for at-risk infants and young children across Queensland."
Dr Shelton has run a multidisciplinary clinic based at Southport Health Precinct since 2014 providing FASD diagnostic and intervention services to up to 22 children and their families each year.
The new statewide service will provide professional training and support to clinicians across the public health system as well as coordinating and integrating services in the community and in hospitals.
It will also offer education and research opportunities into the causes and effects of NED, diagnostic and intervention methods and effective models of care.
Sixteen years ago Queensland mother Anne Russell's sons Seth and Mick, now adults, were diagnosed with FASD.
Mrs Russell has since shared her story with national and international audiences to raise awareness of the dangers of drugs and alcohol during pregnancy.
"Dr Shelton's service is a necessity not just so that appropriate interventions and support can be put in place but also as a prevention method.
"Once people are diagnosed, medical treatment and at-home strategies are the next important steps in order to reduce the likelihood of the child developing secondary disabilities," Mrs Russell said.
"It is critical to avoid these 'secondaries' as they can often be more detrimental than the primary brain injury."
Gold Coast Hospital Foundation, the official charity of Gold Coast Health, has played an integral role in developing this new service.
Chair Wayne Hunt said the foundation was committed long-term to the NED Service and the foundation aims to help drive the new service with philanthropic funding.
"The Gold Coast Hospital Foundation sent Dr Shelton and his team to Canada for the specialist training which has helped enable the opening of the new institute," he said.
"It is our aim to help expand the services and progress in this important area of child health research, delivery and care."
(Caption: .)