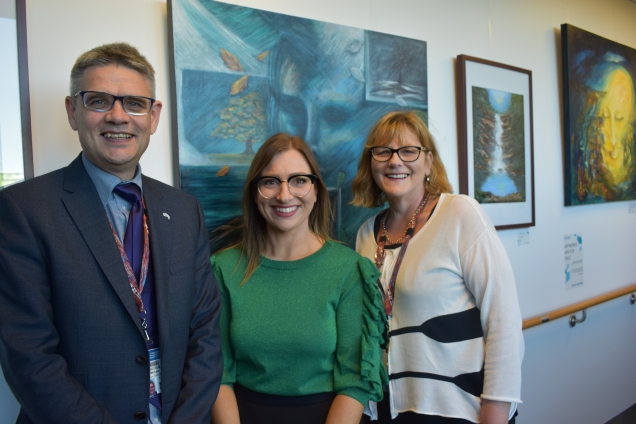 Gold Coast Health is launching a new Creative Health Hub to help enhance patient outcomes and promote staff wellbeing through visual, performing and literary arts.
Gold Coast Health Board Chair Ian Langdon said arts and health activities in hospitals can help deliver better health outcomes for patients, reduce the time spent in hospital and support higher staff retention.
"We are creating a series of activities within Gold Coast Health facilities that provide a positive focus to engage consumers and reduce stress and anxiety," said Mr Langdon.
"There is a magnificent art collection on permanent display at both Gold Coast University Hospital and Robina Hospital, but we will be adding more exhibition gallery spaces to showcase the work of a variety of artists."
"Our first art exhibition, 'Inside Out' opens at Gold Coast University Hospital on Thursday and highlights the creative strengths and talents of local artists living with mental illness, providing messages of hope and recovery to its viewers," said Mr Langdon.
Gold Coast Health's Creative Health Project Officer Maddie Bridgland said the Creative Health Hub will allow clinicians to engage with artists, musicians and designers to improve how health care is provided across the Gold Coast.
"I'm currently working with Robina Hospital's palliative care unit to identify how we can integrate collaborative creative art projects that create a patient's legacy," said Ms Bridgland.
"We're also providing more avenues for live music within our hospitals by inviting local choirs, ensembles and musicians into both hospitals.
"Through engaging the arts, we want people to see the hospital as a place where you can come to promote your health and wellbeing, not just somewhere you come when you are sick."
As well as helping patients and working with the community, the program will extend to support stressed-out staff and give them a creative outlet for relaxation.
"People who engage in the arts are twice as likely to have a stronger sense of belonging within their community as well as significantly better mental health wellbeing," said Ms Bridgland.
"Our aim is to use the arts to bring Gold Coast Health's diverse workforce together, with activities like photography competitions, creative workshops and group jam sessions,"
Gold Coast Health's Creative Health Hub has the potential to grow and engage diverse population groups, promote awareness of health issues, foster community cohesion, inclusion, intellectual stimulation and reduce isolation.