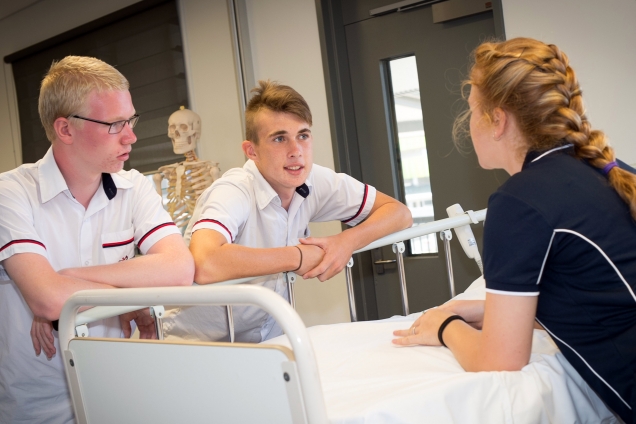 Gold Coast Health is helping Pimpama State Secondary College prepare future generations of health workers.
The health service donated equipment to the high school's Health Service Centre where students get a glimpse of how patient care in a hospital setting works, ahead of potentially establishing a career in the health industry.
Gold Coast Health Board Chair Ian Langdon said it was an easy decision to assist Pimpama State Secondary College and the health service's facilities team identified a number of items no longer required.
"We were able to donate a used electrically-operated hospital bed, a patient monitor, bandages and other hospital consumables that were past their used-by-date," he said.
"Not only is a positive outcome for the school and its students, but an efficient use of resources."
Mr Langdon said Gold Coast Health was a tertiary organisation which welcomed hundreds of university students during medical and nursing placements each year.
"I have no doubt there are some future health workers studying at Pimpama State Secondary College.
"I hope this donation shows the secondary students of Pimpama that a successful health service is built not only on doctors and nurses, but also the support staff and ward clerks who play an important role in quality patient care," Mr Langdon said.
Principal John Thornberry said Pimpama State Secondary College opened in 2013 and had grown from strength to strength.
Its Health Services Centre was launched last year to deliver Certificate II in Health Support Services and Certificate III in Health Services Assistance qualifications.
"It's nice to partner with our local public health service in this way. The donations are greatly appreciated and will help ensure our students get a valuable learning experience," Mr Thornberry said.
Gold Coast Health delivers public health services to a population of 527,000 people and is the Gold Coast's largest employer with more than 8000 staff.