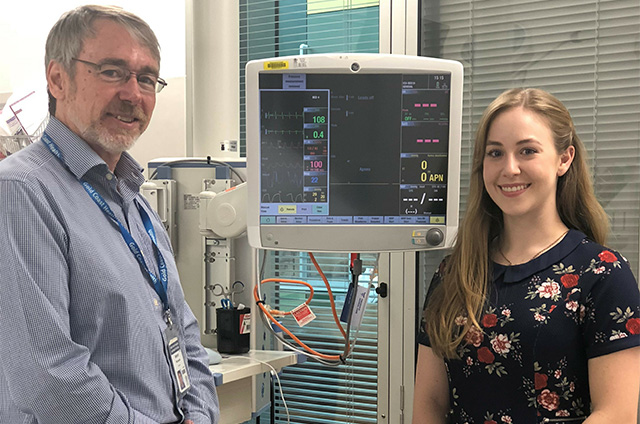 Gold Coast Health is empowering young women to play a crucial role in healthcare innovation using artificial intelligence (AI) to transform the way hospitals deliver healthcare.

The new initiative secured $168,000 in funding courtesy of IntelliHQ from the Federal Government's Women in STEM and Entrepreneurship (WISE) grant program which tackles the national challenge of how to attract women to Science, Technology, Engineering and Mathematics (STEM) careers.
IntelliHQ is a not-for-profit partnership between Gold Coast Health, universities and industry. Its co-founder and Gold Coast Health Medical Director of Innovation Dr Brent Richards said the program aimed to inspire women to revolutionise healthcare in Queensland and Australia.
"The world of artificial intelligence is growing very fast. It's an important direction for both the health service and Gold Coast Health and Knowledge Precinct and an opportunity to achieve world recognition in this emerging and exciting field.
"With considerable health technology innovations and data already available, it is time to work to improve the safety and quality of this journey for our patients," Dr Richards, who is also Gold Coast Health Director of Critical Care Research, said.
The IntelliHQ project will bring together 225 women for learning and leadership opportunities during a series of workshops and events. Participants will meet with local and international leaders in the AI industry and learn how AI can help clinicians deliver improved patient care and system outcomes.

Griffith University electronic and biomedical engineering student Celeste de Mézières said she was excited by the opportunity to be involved in AI and cutting-edge research which would improve the healthcare system.
"This WISE grant is a major investment by the Australian Government in supporting the future of STEM and shows recognition of the importance of encouraging a more inclusive industry," Ms de Mezieres said.
Gold Coast Health strives to be recognised as a centre of excellence for world-class healthcare. Executive Director of Strategy and Service Planning for Gold Coast Health, Toni Peggrem said this kind of opportunity will be a significant contributor to that vision.
"For those women who are willing to embrace the AI revolution, there will be opportunities to make a real difference," Ms Peggrem said.
"Gold Coast Health is actively working through IntelliHQ and academic and industry partners to solve major healthcare challenges with the support of commercially viable AI projects."
Gold Coast Health and Knowledge Precinct, a Gold Coast 2018 Commonwealth Games legacy, will become a unique global business location for high-tech industry development, research collaboration and jobs.