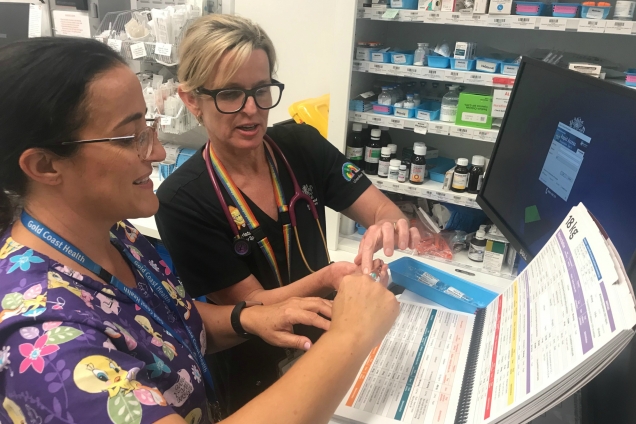 A Gold Coast Health Paediatric Emergency physician and a Senior Paediatric Pharmacist have combined their expertise to drive the development of a resource already improving the accuracy of care delivered to critically unwell children across Queensland.
The Resuscitation Emergency Drug Dosage (CREDD) book is designed to aid doctors and nurses in ensuring the correct dose of the appropriate drug is given to the right patient during resuscitation.
The CREDD book was built on the 'Gold Coast Paediatric Emergency medication book' guidelines originally developed by Dr Christa Bell and Karyn Dahms in 2016. The Gold Coast Paediatric Emergency medication book was itself inspired by and contains elements adapted from Monash Children's Hospital's 'Paediatric Emergency Medication Book' 1st edn. 2014 edited by Dr Simon Craig, and 2nd edn. 2018 edited by Dr Simon Craig and Ms Nicole Dirbauer.
Dr Bell says the CREDD book improves safety by removing the cognitive burden of calculations with a resource which has already done the maths based on the PICU drug data set of The Queensland Children's Hospital (QCH).
"One of the challenges with managing critically ill children is that they all have different weights. The drugs we give children are based on their body weights which means we have to do calculations, and those calculations are really challenging to do in a time-pressured situation," said Dr Bell."We created our own solution which was really down to Karyn's clever brain that can do excel formula. We'd been using that excel document for about three years and decide to take it to a state-wide meeting with other ED teams. That meeting was the catalyst for 15 months of collaboration with key stakeholders around the state.
"That's where we discovered a strong appetite for a similar resource, particularly from places that don't have a paediatric hospital per se."
Senior Pharmacist Karyn Dahms says the genesis of the project was due to the variety of resources required to deliver the right medication, the right dose in the right way in a time-critical situation.
"We combined those resources, so there is only one source of truth in those critical, time-pressured situations. We wanted children to have safe and consistent medication delivery throughout their journey, regardless of where they presented," Karyn said.
"The CREDD is a significant step forward in the care of critically unwell children. It has aligned Australian clinical practice with international safety recommendations with regard to standard concentrations.
"It's also helping to negate some of the inconsistencies across the state. None more so than in Qld's smaller hospitals, where they don't see children as much as we do and are usually resource-poor. CREDD was delivered to every QH hospital last week and we have already had great feedback - it has been really cherished by those remote and rural sites as well."
Dr Bell added the book is intended to be a friend to clinicians, rather than a directive.
"I think that's reflected in the Aboriginal artwork on the front cover. The large symbol at the front symbolises the coming together of people to benefit Aboriginal and Torres Strait Islander people, and we see that as the coming together of lots of us across Qld to do what we did, with the beneficiaries being our vulnerable children."
Christa and Karyn wish to acknowledge the support of Queensland Health's Healthcare Improvement Unit in developing the CREDD including Sunshine Coast University Hospital Senior Pharmacists Courtney Vesey and Kayla Doyle and Paediatric Critical care CNC Lauren Morgan.
An earlier version of this article did not acknowledge that the Gold Coast Hospital Paediatric Emergency Medication Book was inspired by and contains elements adapted from the Paediatric Emergency Medication Book © 2014 and 2018 Monash Health.
GCHHS would like to acknowledge Monash Health and in particular Dr Simon Craig and Ms Nicole Dirnbauer, the editors of the Paediatric Emergency Medication Book. GCHHS apologises for this oversight.