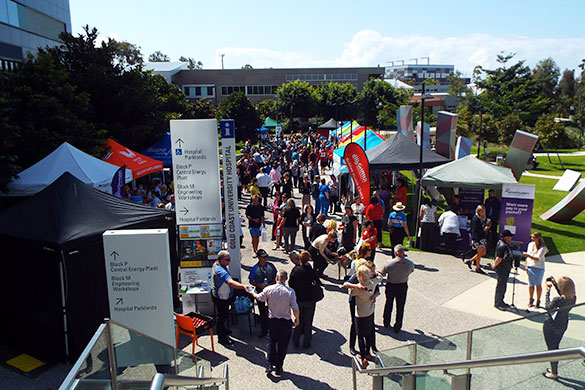 Gold Coast Health staff joined the national conversation on suicide by attending an RU OK? Day event on Thursday.
Team Health, the service's growing workplace health program, hosted a wellness expo in the parklands behind Gold Coast University Hospital where employees are invited to tuck in to a free lunch, live music, giveaways, cooking demonstrations and more.
RU OK? Day is a national day of action to help prevent suicide by encouraging people to reach out and connect with someone they care about.
Staff formed a human RU OK sign, joined in the 22 push-ups for 22 days campaign which acknowledges veterans who take their lives every year and discovered a range of information on wellbeing.
Gold Coast Health People, Systems and Performance Executive Director Damian Green said it was the third year the health service had hosted an RU OK? Day event.
"The mental health of our family, friends and colleagues is everybody's responsibility.
"I urge all our staff to take the time to talk to our mental health professionals here today, to learn as much as you can about suicide prevention and what is available in our community to assist," he said.
Team Health is a holistic program which instils the importance of living a healthy life in staff and role model this practice to the community.
Healthy Lifestyles Coordinator Mara Bennett said the RU OK human sign had been a staff member's idea.
"That's a new initiative this year and it's not only raising awareness (of suicide), but doing it in a way that's engaging and memorable for our staff," she said.