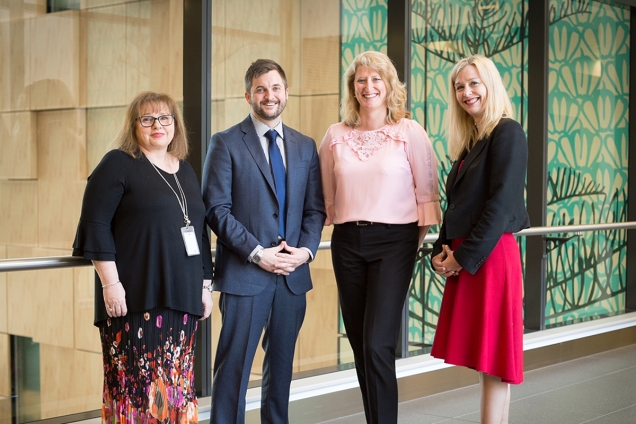 Gold Coast Health has made four appointments to its Executive Management Team as it delivers on its purpose to provide excellent evidence-based healthcare that meets the needs of the Gold Coast community.
Chief Operations Officer Kimberley Pierce said the appointments were made following an extensive recruitment process.
The four new appointments include:
Karlene Willcocks – Executive Director of Cancer, Access and Support Services
Paula Duffy – Executive Director of Diagnostic, Emergency and Medical Services
Sandra Lenehan – Executive Director of Specialty and Procedural Services
Patrick Turner – Executive Director of Women, Newborn and Children's Services
The role of Executive Director of Mental Health and Specialist Services will continue to be held by Karlyn Chettleburgh.
"As Executive Directors they will be responsible for providing leadership and management of their designated divisions, in partnership with our Clinical Directors," Ms Pierce said.
"I look forward to working closely with them to support the Gold Coast community."
Meet our new Executive Directors
Karlene Willcocks
Karlene has had an extensive career in nursing and is an experienced strategic healthcare leader with a diverse background in senior management and leadership roles. Up until taking on this role, Karlene was the Director of Operations for BreastScreen Victoria. Karlene has also worked with Monash Health and health services in both Australia and New Zealand. Karlene is a member of the Australian Institute Company Directors.
Paula Duffy
Paula commenced at Gold Coast Health during the transition of St Vincent's Hospital to Robina Hospital. Paula has a diverse background in nursing and extensive experience in senior leadership roles at Gold Coast Health. Paula is currently an Associate Fellow at the Australasian College of Health Service Management and is an active member on more than 20 internal committees. Paula has been acting in the Executive Director of Diagnostic, Emergency and Medical Services role since February 2017.
Sandra Lenehan
Sandra has a nursing background and is currently the Nursing Director of Surgical Services at Logan Bayside Health Network within Metro South Hospital and Health Service. Sandra has demonstrated her leadership qualities in a variety of roles and committees in both Queensland and New South Wales hospitals. She is a current member of the Queensland Clinical Senate, a group focused on providing clinical leadership by developing strategies to safeguard and promote the delivery of high quality, safe and sustainable patient care.
Patrick Turner
Patrick is a qualified Dietician and holds a Masters of Commerce. Most recently, he was the Divisional Director of Operations – Medicine, Emergency Care and Rehabilitation for the Hillingdon Hospitals NHS Foundation Trust. Prior to working in the UK, Patrick worked with Melbourne Health and Mackay Hospital and Health Service.