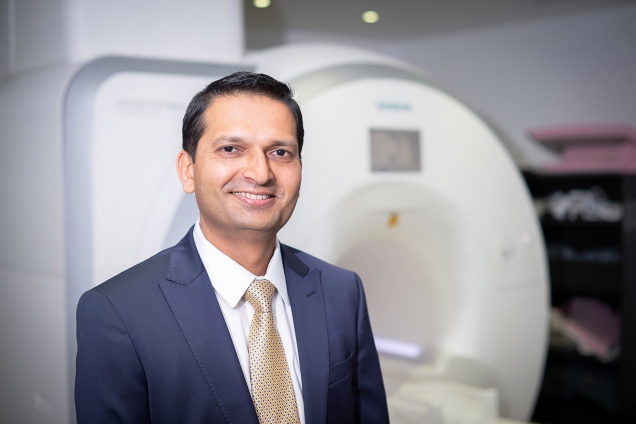 Gold Coast Health's Dr Sandeep Bhuta has become the first Australian to receive an International Outreach Professor award to advance the speciality of neuroradiology.
Dr Bhuta, a Neuroradiologist who's worked for the health service for more than a decade, was recently announced as a recipient of the American Society of Neuroradiology (ASNR), Anne G. Osborn International Outreach Professor for 2019.
In taking up the outreach award, Dr Bhuta will travel to Ethiopia to build an understanding of neuroradiology among the country's doctors and radiologists.
"Developing countries like Ethiopia really benefit from didactic hands on teaching by professors and facilitates exchange of knowledge and techniques in high-end subspecialties like neuroradiology.
"This program was started by ASNR in 2005 to help deliver the skills and enlighten the doctors in these countries," Dr Bhuta said.
"It's so satisfying to teach in outreach hospitals, because the clinicians truly appreciate the wealth of knowledge that they are receiving, they really soak it up and it does make a difference for their patient care."
Dr Bhuta – who hold a conjoint position as an Associate Professor at Griffith University, School of Medicine and Menzies Health Institute – has found his true passion in neuroradiology where he can work as part of a multi-disciplinary team to treat patients with complex health conditions.
"I was always passionate about the brain – so I thought about doing neurology or neurosurgery. But neuroradiology as a speciality is very dynamic, innovative and rewarding.
"You do make a lot of difference to a patient's outcome. Particularly when they've had a stroke or a cancer or a complex head and neck cancer – you really make a difference.
"I wanted to be someone who could be of value to patients," Dr Bhuta said.
Gold Coast Health's Executive Director of Clinical Governance Dr Jeremy Wellwood congratulated Dr Bhuta on his award.
"Sandeep helped establish critical services for the Gold Coast community like our acute stroke care and head and neck cancer service," Dr Wellwood said.
"Over the past decade he's worked diligently to advance his speciality and provide expert and highly specialised clinical advice to support our patients.
"We are striving to deliver world-class care here on the Gold Coast and when our clinicians are recognised internationally like this, we know we're heading in the right direction," Dr Wellwood said.
Dr Bhuta will travel to Ethiopia in early 2019, where he'll teach and work with clinicians in the capital Addis Ababa for two to five weeks.
While there, he'll no doubt have the opportunity to extend his interests in teaching, research and academia.