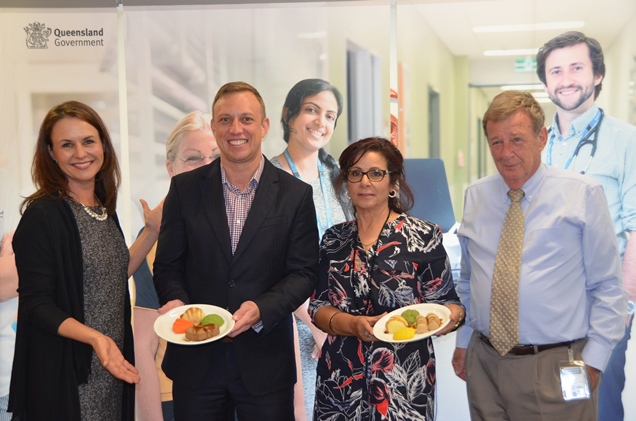 Gold Coast University Hospital's (GCUH) patient food was put to the taste test during a luncheon attended by Minister for Health and Minister for Ambulance Services Steven Miles, community representatives, hospital staff and media.
The event was hosted by Gold Coast Health's Consumer Advisory Group (CAG), made up of 25 community members who work with the hospital and health service to improve the local health system.
The lunch menu, which featured the same meals served across GCUH inpatient units, included honey soy chicken, ricotta ravioli, crumbed fish, vegetable pie and tiramisu.
Consumer Advisory Group Chair Joan Carlini said the committee invited the minister to join them for lunch and discuss areas of interest.
"Our members are represented on more than 40 service committees where we provide input and feedback to support Gold Coast Health's desire to be a world class health service," she said.
"Consumer input is an essential element of delivering better health care."
Mr Miles said he welcomed the opportunity to meet with local health consumers and sample the public hospital food offering.
"Gold Coast Health's consumer group provides valuable community insights on a wide range of topics including patient care and safety and service areas such as food and nutrition," he said.
"Hospital food has been transformed and we now recognise the important role nutrition plays in delivering positive patient outcomes.
"Hospital menus are guided by Queensland nutritional standards developed by hospital staff with clinical and food service expertise."
Recent patient satisfaction surveys showed that GCUH was well above the benchmark standard.
Almost 2000 patient meals are served every day at Gold Coast University Hospital, most likely making it the largest "restaurant" on the Gold Coast.
The two-week cyclical menu caters to more than 50 diets and 100 allergies while considering various cultural and religious needs and complying with Queensland Health State-wide Menu Standards.
Gold Coast Health recently invested $25,000 in a specialised vitamising machine which allows pureed food to be moulded into more appealing food for patients with eating difficulties such as dysphasia.
These patients typically have a lower food intake due to their medical conditions.
Overall, 91 per cent of patients prefer the moulded food over non-moulded food. Since its implementation there has been a 13 per cent decrease in food left overs for patients on texture modified diets, meaning improved nutritional intake and quicker recovery.
Gold Coast Health Food Facts:
2000 patient meals are produced every day, 14,000 meals per week and 728,000 each year
the menu is on a two-week cycle and caters to more than 50 different clinical diets and 100 allergies
more than 140 staff are employed in the food services area at Gold Coast Health.