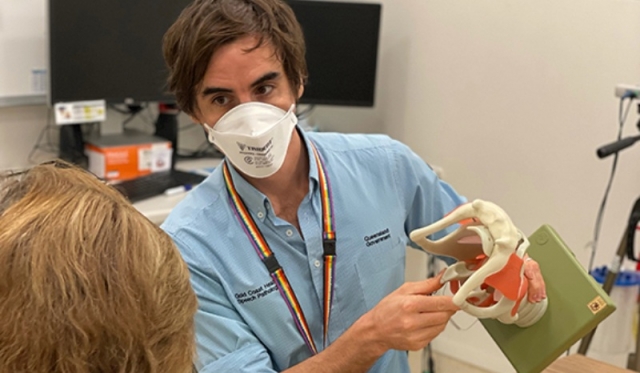 Research indicates four per cent of adults and children in Australia will report vocal symptoms in their lifetime, according to Gold Coast Health Speech Pathologist Greg Chiapello.
"About 30 per cent of this number work in public-facing occupations where their voice is critical to their work, such as singers, teachers, health care workers and administrative staff," Greg said.
"Unfortunately, only about 10 per cent of people with vocal symptoms will seek help from a professional. Symptoms may include changes to the sound of the voice, problems with the pitch and loudness of the voice, or increased effort to produce a voice."
The voice team at Gold Coast Health is dedicated to helping our patients rehabilitate their voice again.
Advanced Ear, Nose and Throat (ENT) Speech Pathologist Chris Payten said there are a range of comprehensive specialist and highly skilled multidisciplinary assessment and treatment services, including ENT surgery, neurology and speech pathology.
"This includes a monthly interdisciplinary voice assessment clinic, weekly speech pathology led primary contact assessment clinics, multi-disciplinary neurology clinics for patients with vocal dystonia and essential tremor, and speech pathology voice treatment services at Gold Coast University Hospital and Robina Hospital," Chris said.
The team is also involved in research to improve the lives of people with voice disorders, through links with Griffith University and The University of Sydney.
If you are experiencing issues with your voice or have concerns about symptoms in the throat, please discuss with your GP and seek a referral to an ENT specialist. If you have further questions, you can contact the speech pathology service via the Gold Coast University Hospital switchboard on 1300 744 284.
It's World Voice Day on 16 April 2022, celebrating the work the global medical community does to assist and treat people with vocal problems and shine a spotlight on vocal disorders.