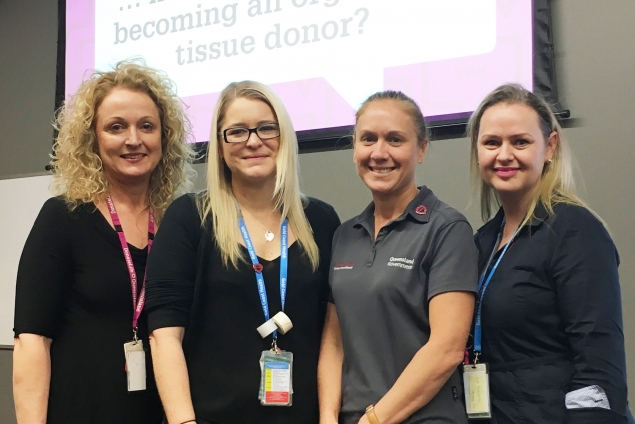 Gold Coast organ and tissue donors helped save the lives of 1,448 Australian transplant recipients in 2016.
According to DonateLife data, Gold Coast University Hospital (GCUH) is Australia's fifth ranked tertiary hospital for organ donation rates with 20 organ donors and 116 tissue donors last year.
Tina Coco, DonateLife Queensland State Clinical Manager, said Gold Coast Health played an integral role in helping Queensland to reach record donor numbers in 2016.
"Over the years, Gold Coast has consistently had a high donation consent rate which illustrates the generosity of Gold Coast people.
"Gold Coast Health staff have embraced donation as a normal part of the end-of-life care and I believe that is reflected in the donor numbers we see from the Gold Coast year after year."
Earlier this week, Gold Coast Health and DonateLife Queensland hosted a seminar for staff and the community to promote the importance of organ and tissue donation and encourage registration during national DonateLife Week.
Forum speakers included Gold Coast Health anaesthetic and recovery nurse Megan Jonas who received a life-saving organ transplant five years ago and trauma services nurse practitioner Kate Dale whose father was an organ donor three years ago, giving four people the most valuable gift of all.
Amanda Gilbert, Donation Specialist Nurse Coordinator from DonateLife Queensland, said Megan and Kate's deeply personal stories showed how organ and tissue donations gave many Australians a second chance at life.
"For many of those waiting for a transplant, organ and tissue donation can mean the difference between life and death," said Amanda.
In 2016, 106 Queensland organ donors saved the lives of 323 Australians, a 47 per cent increase from the previous year.
"With around 1,400 Australians waiting for a life-saving transplant, the generous act of organ and tissue donation has a far reaching effect, changing the lives of both transplant recipients and their families.
"If you've decided to become an organ and tissue donor, it's vital you join the Australian Organ Donor Register and let your family and friends know your wishes.
Nine out of 10 families agree to donation when their loved one is a registered donor," Amanda said.
Only 27 per cent of Queenslanders are currently registered on the Australian Organ Donor Register.
You can register to become an organ and tissue donor online in less than two minutes. To fill out the registration form, visit www.donatelife.gov.au and follow the simple prompts.