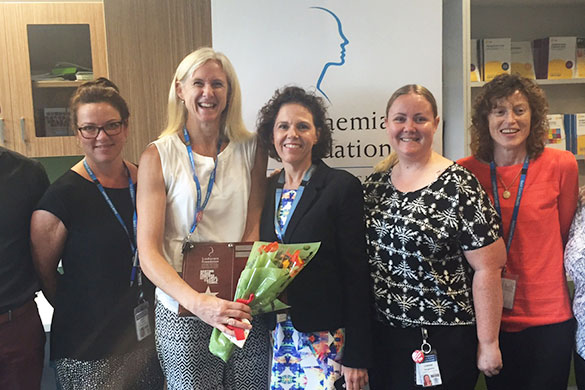 Youth Cancer Nurse Consultant Anita Cox will travel to the 1st Global Youth Cancer Congress in Edinburgh in December after being awarded a $5000 bursary from the Leukaemia Foundation and charity Team Adem.
Anita, was joined by her colleagues when she received the Adem Crosby Haematology Nursing Award in a small ceremony at Gold Coast University Hospital Cancer and Blood Disorders clinic.
"I am really looking forward to further extending my knowledge in caring for young people with cancer as well as networking with international experts and colleagues," Anita said.
"Having a specialist interest in youth cancer care, I hope to gain new ideas for service development, particularly in the areas of fertility preservation and survivorship, which I feel are areas that could be enhanced to improve patient care."
Director of Support Services at the Leukaemia Foundation Barbara Hartigan presented the award to Anita.
"We recognise and celebrate that nurses play an integral role during any patient's care and we're very proud to give them a chance to enhance their careers and help even more people beat their blood cancer," Barbara said.
The award is in memory of Sunshine Coast youth Adem Crosby, who after being diagnosed with acute lymphoblastic leukaemia in 2011, garnered an army of supporters to raise money for the Leukaemia Foundation. Adem had planned to study haematology nursing at university, but passed away in 2013.
The award is now in its third year and is designed to improve the services and care provided to patients being treated in the haematology/oncology setting. Previous recipients have brought back specialist knowledge and a valuable network of international contacts having attended the 5th Emirates Haematology Conference and the Blood and Marrow Transplantation Annual Congress, Spain.