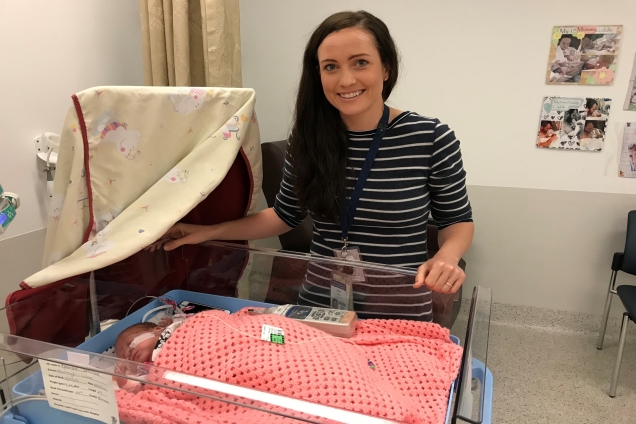 Premature babies in the neonatal intensive care unit at Gold Coast University Hospital (GCUH) are listening to recordings of their mothers reading The Tale of Peter Rabbit on an iPod as part of a study on the effect of sound in neonatal environments.
Kobi Best, a nurse and midwife at Gold Coast University Hospital, is researching the effects of exposing premature babies to the gentle sound of their mother's voice to see if it assists the development of cognitive, language and motor skills in line with babies born at full-term, by the time they are two years old.
Preterm babies exhibit greater neurodevelopmental deficits including speech, language and motor outcomes compared to term babies, according to Kobi.
Kobi says the optimal noise level for a premature baby is 45 decibels, but when she started this study in 2015, noise levels in the neonatal intensive care unit were often reaching twice that level. Gold Coast University Hospital has since implemented changes to reduce noise in the ward.
With the opening of the Newborn Care Unit at the hospital in 2014, the SENSE (Sensory Exposure of Neonates in Single-room Environments) study began as an Honours research project developed by Kobi to measure the sensory exposures in a purpose built single-room neonatal unit. The research is now on its third phase as Kobi has moved onto her PhD.
Kobi says babies generally don't start to hear until 24 weeks gestation, so when they are born prematurely the first sounds they hear are loud hospital noises, and not the softer in-utero sounds of their mother's voice and heartbeat.
This is where Kobi's study comes in.
"One of the things we suspect is happening is by reducing the sound environment, reducing the light environment and giving them familiar sounds, it's reducing their cortisol, it means that they're not as stressed, which is a good thing," she said.
The amount of mum's voice each baby hears is randomised. The iPods are run all day but are spliced with silence so it's not playing mum's voice constantly.
"We're conscious of not hyper-stimulating babies, especially when they're really little. What we want to be able to compare is the high dose and the low dose in our study and compare that with previous babies who've come through similar circumstances," Kobi says.
So far, Kobi says parents tell her they love the study, and nurses and doctors have commented they think the babies respond well to it.
"I've been told sometimes when the story comes on, they can hear mum's voice and are turning towards the sound, which is a good thing. They should be doing that developmentally anyway," she says.
They find pre-term babies are often behind term-babies in their development, particularly in their language skills. All babies born in GCUH at less than 28 weeks are tested again at two years of age on their cognitive, language and motor skills.
"For my study that's our primary outcome. I want to see whether or not putting a language exposure into the cot, hearing mum's voice, is going to improve the outcomes of those babies at two years of age," she says.
Her hopes for secondary outcomes include improvement of weight gain, shorter time until discharge, the rate of their growth and age and weight at discharge - whether they're heavier when they go home.
The three phases of Kobi's SENSE research has been funded thanks to several grants from the National Health and Research Medical Council, the University of Queensland, a Queensland Health Fellowship and a Gold Coast University Hospital Private Practice Trust. With funding, she's been able to purchase equipment, software, publication licences, and present the research at conferences overseas and around Australia.
Kobi says she is also thankful to have the support of NICU director Peter Schmidt.
"Kobi has used her ideas and expertise as a bedside nurse to do research in the NICU that likely has short-term benefits for the babies' vital signs but may also have positive long-term effects on both attachment and development," Dr Schmidt said.
Kobi hopes to have all the data collected by the end of 2019.