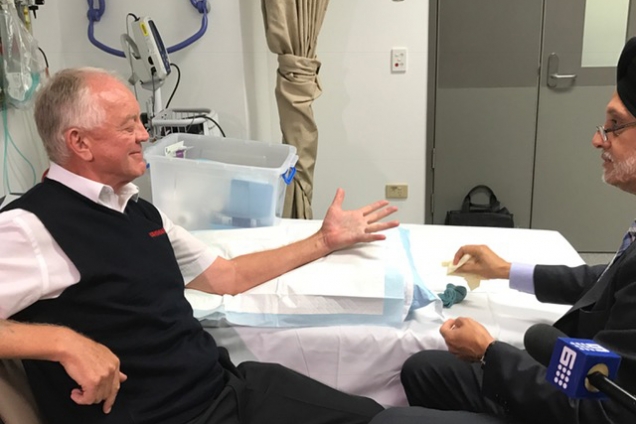 Gold Coast Health patients suffering a common hand condition causing bent fingers now have access to an injection treatment that eliminates the need for orthopaedic surgery.
Gold Coast University Hospital is the first public hospital in Queensland and only the second in Australia to be able to offer contracture patients the XIAFLEX treatment.
Dupuytren's contracture is a progressive contracture of fingers that causes functional hand impairment and has been traditionally treated by surgery.
Professor Randy Bindra said by adopting the treatment method, Gold Coast Health had once again embraced innovation to improve outcomes for patients and the health service.
"The collagenase injection softens the contracture and allows specialists to gently straighten the finger," Professor Bindra said.
"This treatment makes sense on many levels. It's less stress for the patient, results are comparable to surgery and it helps free up our theatres.
"We expect to see an estimated 50 patients treated with collagenase annually. That's 50 people every year who will avoid surgery and spend less time recovering."
Dr Bindra said the injection treatment provided the health service cost savings.
"The injection itself costs us $1300 while the cost for each of the two clinic visits required is $196 for each patient," he said.
"That's compared to the surgical treatment which if you take into account the hospital stay, surgery and theatre time, we are looking at between $4600 - $5400 per patient."
Professor Bindra said the injection procedure was performed over two short clinic visits.
"Firstly we measure the finger and slowly inject the solution into the affected area," he said.
"We then ask the patient to come back two days later. This is when we gently manipulate the finger to its original position. There is often an audible 'popping' sound at this point.
"Effectively the patient has restored hand functionality from then."