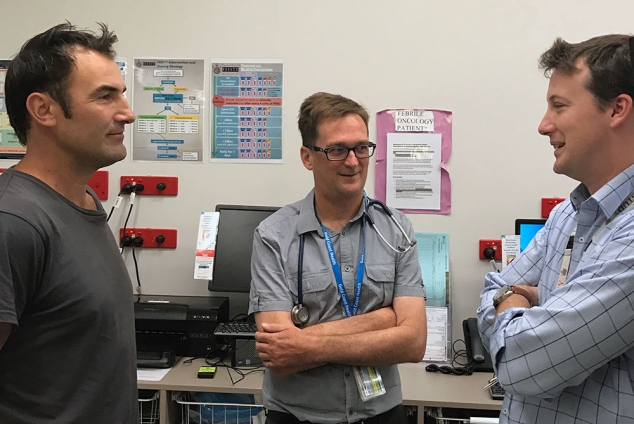 Gold Coast University Hospital (GCUH) is the lead site for a Queensland clinical trial aiming to improve outcomes for severely injured trauma patients with critical bleeding.
28 patients have been recruited since the Fibrinogen Early In Severe Trauma studY (FEISTY) trial was launched at GCUH in December 2016, with 12 of those being Gold Coast Health patients. 100 patients in total will participate in the research being conducted at four major trauma centres in Queensland - GCUH, Princess Alexandra Hospital, Royal Brisbane and Women's Hospital and Townsville Hospital.
The FEISTY trial clinical trial involves the multidisciplinary collaboration of multiple departments including Queensland Ambulance Service, ED, Trauma, Anaesthesia, ICU and Blood Bank. The research made possible with more than $600,000 in funding, including research grants from the Emergency Medicine Foundation ($292K), the National Blood Authority ($190K), and a Gold Coast Hospital and Health Service Grant ($132K). The trial is also being run in collaboration with the Australian Red Cross Blood Service.
Intensive Care Specialist Dr James Winearls is the Chief Investigator behind the Gold Coast investigations into the use of a concentrated blood clotting product early in the treatment of severely bleeding trauma patients.
"Fibrinogen is one of the key clotting factors that needs to be replaced in severe traumatic bleeding," Dr Winearls said.
"Currently Fibrinogen is replaced using Cryoprecipitate; a blood product obtained from healthy volunteer donors that can take a long time to administer and place significant strain on blood banks.
"Essentially, this trial will seek to establish if administering fibrinogen concentrate is quicker and possibly more effective in reducing haemorrhage."
Acting Executive Director of Clinical Governance, Education and Research Professor Dr Greg Comadira said GCUH was well placed to lead the trial.
"Research is a key avenue in which we can embrace opportunities through innovation," he said.
"GCUH has the busiest ED in Queensland, and our trauma catchment area extends to Coffs Harbour, so there are many people in the Gold Coast and wider area that could benefit from the findings."