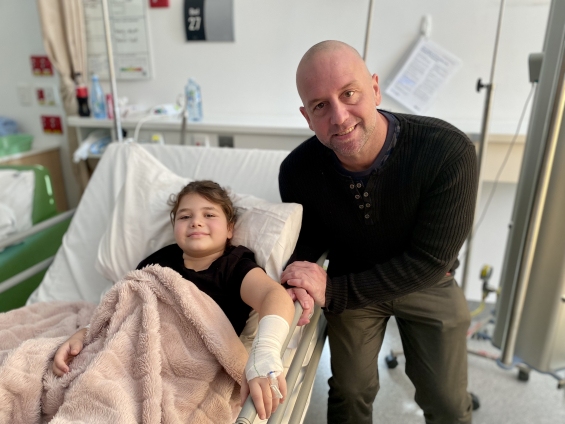 Nine-year-old Gabrielle has Perthes disease and recently had surgery. It's a painful and rare condition of the hip that affects children between the ages of three-and eleven-years causing limping and limiting movement.
Physically active children like dancer Gabrielle appear to be more susceptible. She will spend months in a wheelchair and spica cast, with mum Tracey hoping her daughter will start walking in time for Christmas.
Parents Tracy and Daniel say their daughter started complaining about hip pain in January, but they put it down to the rigours of eight hours of weekly training and performing.
"The pain was coming and going and in March we noticed she started dragging her leg. We had some x-rays and were sent to emergency. From there, we had an MRI and surgery was suggested," said Tracy.
Gabrielle has had two surgeries and her initial treatment including stretching the hip muscle to improve her range of movement from 30 to 60 per cent.
Gold Coast Paediatric and Adult Orthopaedic surgeon Annabelle Stabler says early detection and intervention can significantly improve long-term outcomes.
"If detected early and we intervene there's good evidence that we can limit or sometimes even stop the hip ball collapsing and end up with a better shaped hip long term," said Dr Stabler.
"We know that children over six years of age and girls don't tend to do as well. Those kids especially are likely to benefit from surgery as early as possible if they are diagnosed before the head starts collapsing."
Mum Tracy has a history with Perthes Disease, she's had it in both hips. Studies shown that children with parents who have the disease are more likely to get it, but there is limited information about what causes the disease.
"There are AFL players and dancers who have had the disease and they are at the top of their game. So, Perthes doesn't had to stop you living your dreams," said Tracy.
It's been a huge adjustment for Tracey and Dan who have modified their home including adding ramps to living spaces.
"We are lucky because I'm a teacher and Dan's a nurse, so we have some background in children's care, but it's been challenging for our family," she said.
"Gabrielle is really resilient and has been at each stage, she amazes us. We have our moments, but she is still smiling."