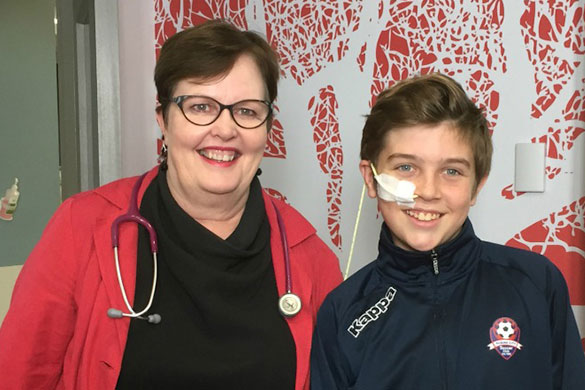 An annual quest to enhance health care for sick children kicked off at Gold Coast University Hospital today.
92.5 Gold FM mornings hosts Richard, Bridge and Spida broadcast live, and completed a daring food challenge, to mark the start of Give Me 5 For Kids. Woolworths served up breakfast for a gold coin, which also got fundraising under way.
Each year the radio station partners with Gold Coast Hospital Foundation to fundraise thousands of dollars to be shared between children's services at Gold Coast Health and Tweed hospitals.
Give Me 5 For Kids runs from 10-27 June and calls on people to open their hearts and generously donate 5 cents, $5, $50 or more.
Gold Coast University Hospital Director of Paediatrics Susan Moloney said: "The community is so good to us and again this year we're hoping that you'll be good to us.
"We have a host of life-saving equipment on our wish list.
"The first is a neonatal laparoscopic set so we can do keyhole surgery on our little tiny pre-term and early-term babies," Dr Moloney said.
"We also need some distractive treatment items for kids undergoing painful procedures – iPads and other distractive devices can really help in those situations.
"Some other things that would be fantastic, such as having some dummy suits so that we can show kids what are the procedures we are about to do – so how to put a central (venous) line into a child, how to put a nasal gastric (tube) into a child.
"Our Children's Intensive Care Unit needs some extra cots that we can look after the kids in a much safer and faster environment and also protect our staff from injury."
Keep an ear out for Gold Coast Health medical professionals who outline their wishlist items during a series of short interviews to be played on Gold FM throughout the Give Me 5 For Kids campaign.
Gold Coast Hospital Foundation received over $95,000 from the fundraising campaign last year which purchased a range of equipment.
Gold Coast Health continues to expand our services and we recently welcomed a third paediatric surgeon. Our Children's Critical Care Unit passed a milestone earlier this year, treating its 1000th patient since opening in February 2014.
Go online to donate, drop in to the Gold Coast Hospital Foundation office on Ground Floor or phone the Foundation office on 5594 6986.